From Cotton Grower Magazine – June 2015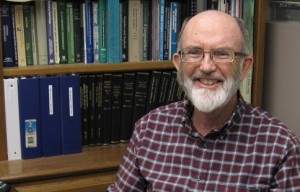 Though he was born and raised in Mississippi—the same state where he now resides—it's safe to say that Dr. Mustafa McPherson took the long way home.
A career in agronomic and breeding research has led him from the Deep South to the Midwest and all the way out to Arizona and California before bringing him back to Leland, MS, where he now works as a cotton breeder for PhytoGen. He looks comfortably at home, sitting in his quiet office just south of the tiny Delta town. The lawn outside is perfectly manicured in a way that is befitting of a large, successful agriculture company.
PhytoGen operates thousands of test plots and breeding plots here in the fertile Mississippi Delta, and McPherson is a hands-on participant. Though he's originally from Mississippi's Gulf Coast region—four hours due south of here—he's happy his winding journey has led him back to his home state. Along the way, he's helped produce some of the most historically significant cotton varieties ever planted in the United States.
"Home is where the heart is," McPherson says, "and I'm a Mississippian at heart. It took a little bit of adjusting for me to live in the Delta. When I was in college, I enjoyed living in Starkville and living in the hills and being able to go hunting and fishing there. I used to say 'There's no way I'd live in the Delta.' But I've really acclimated now, and I really enjoy it here."
Those years spent in Starkville at Mississippi State University were highly influential on McPherson. He initially went to the school with ambitions of earning an engineering degree, but after watching a movie at church about agricultural missionaries in Africa, he decided to switch his focus.
"I went into agronomy, and I enjoyed the agriculture classes, and I did well in them," McPherson now says. "That's how I initially got interested, but then I got into plant breeding after I graduated with my bachelor's degree."
After graduating from Mississippi State, McPherson went north to Purdue University and began focusing on plant breeding in corn. After receiving his Master's degree there, he moved back to Starkville and started working with the USDA, ARS in the Cotton Host Plant Resistance Unit in 1985, and, after a few years, re-enrolled at Mississippi State to pursue his doctorate.
"My work with the USDA under the direction of Dr. Johnie Jenkins established a foundation for conducting research that I have built upon over the years," McPherson says. "One of our primary activities was conducting field trials and lab assays to evaluate cotton for host plant resistance to tobacco budworm and the bollworm. In fact, I helped in the evaluation of the very first transgenic Bt cotton plants for resistance to these pests."
It was a demanding field in its earliest stages, but McPherson was up for the challenge. That time spent working with USDA gave McPherson a unique opportunity to work in plant breeding and host plant resistance. It served to lay the foundation for a lifelong career in cotton breeding.
"Working with cotton, it's a difficult crop to work with, because it is so complex," McPherson says. "You either love it or you hate it. But after you get into it, it gets into your blood. And it's just something that I really enjoy."
Company Man
He worked with USDA from 1985 to 1993, when he graduated with his doctorate from Mississippi State. From there, McPherson went to work for a private seed company in Arizona before eventually landing a job at Mycogen, which took him to California. Shortly thereafter, the company formed a joint venture with J.G. Boswell which resulted in the formation of PhytoGen.