As an independent company, Americot is dedicated to working together with cotton growers throughout the Cotton Belt to provide elite performing varieties within the marketplace. Growers can count on our NexGen® brand varieties for high yield potential, excellent fiber quality, and disease tolerance in the technologies they want and need to be successful. At Americot, our priorities are simple: excellent performance, quality products and exceptional people.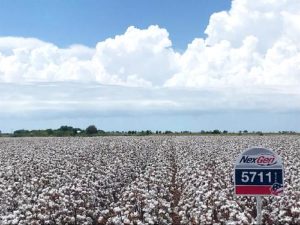 Americot is a leader in cottonseed research and continues to drive the adoption of new technologies we believe will have an impact on cotton farming, while introducing new solutions for growers requiring additional technologies to remain profitable. We have recently expanded our breeding program with the addition of two well-known industry breeders to the team – Mark Barfield and Dr. Mike Robinson. Together with Dr. Tom Brooks and headed up by breeding program manager Dr. Lloyd McCall, our expanded breeding team continues to make significant advancements in research and development to meet the evolving needs of growers and their cottonseed requirements.
Our NexGen varieties offer the latest technologies on the market and are designed specifically around the unique growing needs of the various Cotton Belt regions.
High-performance NexGen varieties include:
NG 5711 B3XF – Introduced in 2018, our first B3XF cotton is a mid-to-full variety, fully loaded with the latest in Bt and herbicide technologies, smooth leaf structure, bacterial blight tolerance and fiber characteristics ideal for growers across the Belt. NG 5711 B3XF loves stress or PGRs, making it ideal for dryland or irrigated acres, and has a fit in about any situation where a mid-to-full maturity variety is required. "NG 5711 B3XF performed very well in 2018, both in yield and fiber quality," says Chance Love, South Texas Region Manager. "It's extremely versatile across multiple soil types and has the strength and staple that growers are looking for. It's an excellent variety for South Texas growers."
NG 3729 B2XF – This early-medium picker-type variety is extremely well-adapted to the Mid-South and offers excellent fiber quality and high yield potential in an aggressive-growing variety that responds well to PGR management. "Between the excellent early season vigor, wide adaptability and indeterminate nature in a medium-early maturing variety, NG 3729 B2XF has the potential to be the top-selling NexGen variety in the Mid-South in 2019," says Chase Samples, Mid-South Region Research and Germplasm Specialist."
NG 3780 B2XF – An early-medium maturing variety with excellent yield potential, excellent fiber quality and an outstanding disease package, NG 3780 B2XF can handle Verticillium wilt and bacterial blight pressure, and is well-adapted to the Panhandles of Texas, Oklahoma and southeast Kansas regions. "It's easy to manage and is extremely tough. I compare it to our popular NG 3406 B2XF with better disease and fiber quality," says Rocky Free, South Plains Region Manager.
NG 4777 B2XF – A widely-adapted medium-maturing variety, NG 4777 B2XF offers high-yielding potential with outstanding quality and has an excellent disease package including Verticillium wilt tolerance. Due to its great seedling vigor, NG 4777 B2XF is good for both dryland and irrigated growing scenarios. "I'm really watching NG 4777 B2XF for late season disease tolerance," says Cody Jones, High Plains Research & Germplasm Specialist. "So far, it's shown to handle Vert pressure very well, and we'll be taking notes to see if that relates to yield benefits."
NG 4792 XF – Ideal for the South Plains and Rolling Plains of Texas, NG 4792 XF is an indeterminate-growing cotton with an outstanding disease package. This variety offers medium maturity, Verticillium wilt tolerance, excellent fiber, and very good yield potential on dryland or irrigated acres. Tyler Norris, High Plains Sales Rep says, "In a dryland or low-water scenario, NG 4792 XF really shines with its indeterminate nature and early season vigor."
Growers know that NexGen brand products are varieties they can count on to perform again and again, year after year. At Americot, we are constantly developing and introducing new varieties from our extensive breeding program, always offering varieties that are designed for the local needs of growers across the entire Cotton Belt.
For more information on Americot's NexGen brand cotton products, call 888-678-7333 or visit Americot.com.