PhytoGen® brand varieties with the Enlist™ cotton trait enable you to control difficult weeds and produce higher yields. The Enlist system builds on the glyphosate and glufosinate systems by adding tolerance to Enlist Duo® herbicide, a new 2,4-D combined with glyphosate. Enlist cotton also provides full tolerance to glufosinate. Stacked with WideStrike® 3 Insect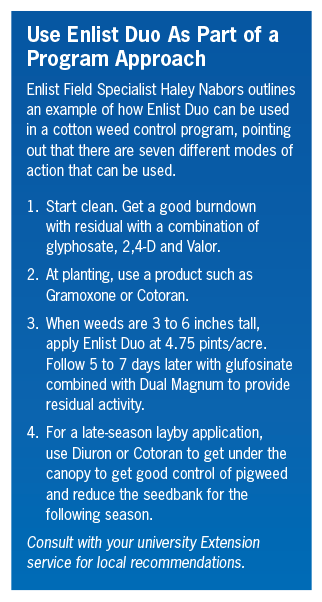 Protection, PhytoGen cottonseed with the Enlist trait helps growers maximize their yield potential.
The Enlist trait enables exceptional control against the toughest weeds — while giving you greater application and planting flexibility. As part of the Enlist weed control system, Enlist Duo herbicide with Colex-D® technology provides you with unrivaled weed control, including tough and herbicide-resistant weeds. So your cotton thrives and weeds won't.
Cotton Grower (CG) asked Scott Wright (SW), Enlist field specialist in the Midsouth, for his recommendations on using Enlist Duo on PhytoGen cottonseed with the Enlist trait responsibly and successfully.
CG: How important is the rate of application of Enlist Duo? The label states 3.5 to 4.75 pints per acre.
SW: Enlist Duo does a terrific job of controlling difficult-to-control and resistant weeds, but it must be used at the right rate to get the best control. For difficult-to-control weeds, we recommend the higher rate of 4.75 pints per acre. It's also important to apply Enlist Duo when the weeds are between 3 to 6 inches tall.
CG: What other advantages does the Enlist weed control system offer growers?
SW: Enlist Duo with Colex-D technology addresses issues such as spray drift, which has been a concern with traditional 2,4-D formulations. We have minimized the potential for driftable fines by 90% compared with a tank mix of traditional 2,4-D and glyphosate, and Enlist Duo offers near-zero volatility. When used according to label directions, Enlist Duo herbicide is designed to land and stay on your target crop.
CG: What's the most important thing growers can do to preserve the efficacy of Enlist Duo herbicide?
SW: We need to use Enlist Duo in a program approach, so it can remain a valuable tool in our cropping systems. The recommended weed control program for Enlist cotton can allow a grower up to seven different modes of action. Rotating between them is important to help prevent and manage weed resistance.