PhytoGen® W3FE varieties offer premiere technologies such as the Enlist™ cotton trait, which enables applications of Enlist Duo® herbicide — a proprietary blend of a new 2,4-D choline and glyphosate —and applications of glufosinate. The W3FE trait package also includes WideStrike® 3 Insect Protection for improved bollworm control.
"WideStrike 3 and the Enlist cotton trait offer growers the best insect and weed control combination currently available in the cottonseed market," says Chris Main, Ph.D., PhytoGen cotton development specialist in the Midsouth. "With the Enlist cotton trait, growers can apply Enlist Duo herbicide to control glyphosate-resistant and other tough-to-control weeds, which is going to be a game changer in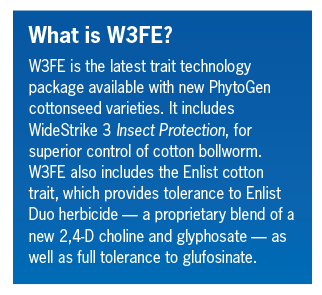 throughout the Midsouth."
These new PhytoGen W3FE varieties also come with native traits that help growers increase production and profit.
"Native traits allow farmers to work smarter," says Main. "These traits are already in the plant, and allow you to be prepared, ready for problems that may occur in-season. It means less time farmers have to spend in the field, and they can still achieve high yields."
Main says PhytoGen delivers varieties with a number of native trait options, such as bacterial blight resistance, Verticillium wilt tolerance, and two-gene resistance to root-knot nematode. Two-gene RKN resistance is currently available in the WRF trait package, but PhytoGen is developing two-gene RKN resistance in future W3FE varieties.
"The two-gene resistance to root-knot nematode is a first in cotton, and offers resistance to the level of a soil-applied nematicide. The nematode cannot reproduce on these varieties, so the actual numbers in the soil are reduced," says Main.