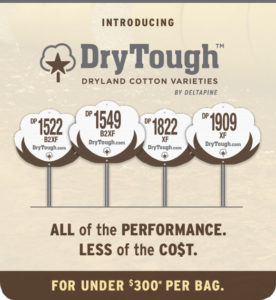 Farming in dryland conditions is tough. Every season, you're challenged to grow a productive cotton crop while managing dry ground and limited water availability — which can mean additional risk for your operation.
We are proud to offer four of our toughest cotton varieties for under $300* per bag. DryTough™ Dryland Cotton Varieties have demonstrated consistent performance in dryland conditions to handle your toughest acres.
SUPERIOR PERFORMANCE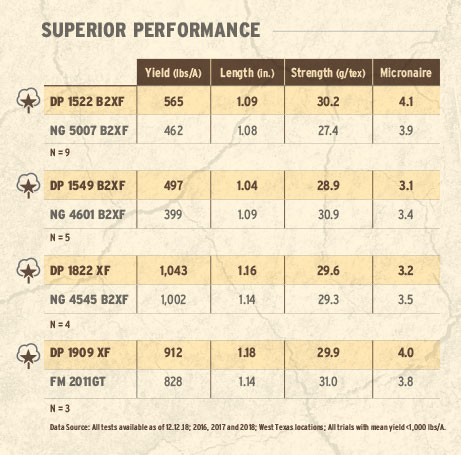 DP 1522 B2XF
DP 1522 B2XF is a large-seeded, vigorous variety with proven performance in dryland acres. This variety has shown excellent ease of management and broad adaptation.
DP 1549 B2XF
DP 1549 B2XF is a well-proven variety with excellent heat tolerance and consistently high performance potential on dryland fields, or fields with limited water for irrigation. This variety may require timely PGR management under vigorous growing conditions.
DP 1822 XF
DP 1822 XF is a large-seeded variety with excellent seeding vigor fit for dryland acres, as well as above-average storm resistance. This XtendFlex® variety demonstrated strong performance in 2018 with the benefits of strong stand establishment and good fiber quality under stress, and
it has been shown to maintain consistent high yield in stressed environments.
DP 1909 XF
DP 1909 XF is a very-early to early maturity variety with good emergence and an excellent fiber package. This XtendFlex® variety is adapted to the Northern
High Plains and Panhandle, and has also shown resistance to bacterial blight.
Learm more at DryTough.com