The 2018 growing season in South Texas was a tough one—dry at planting, hot during the summer, and capped off by too much rainfall at harvest time. But these conditions did not prevent cotton bollworms from entering fields, which put Bollgard® 3 technology to the test.
In late May, bollworm pressure began to build in Luke Scamardo's cotton fields near Mumford, TX. His standard variety has become DP 1646 B2XF because of its yield and fiber quality performance on his farm. In 2018, he planted two new Deltapine® varieties with Bollgard 3 XtendFlex® technology, DP 1835 B3XF and DP 1845 B3XF, for comparison purposes.
"Both DP 1835 B3XF and DP 1845 B3XF came up well, and we controlled worms in those fields. Where we planted DP 1646 B2XF, we had to spray for worms twice," Scamardo said. "Bollworm pressure came in heavy and really affected us on cotton that didn't have the Bollgard 3 trait. But in our cotton with that technology, we did not have to spray."
Even though DP 1646 B2XF held a slight yield advantage over DP 1835 B3XF and DP 1845 B3XF, Scamardo still sees a need for the cotton with Bollgard 3 technology.
"The more cotton with Bollgard 3 technology we can plant, the better we will be," he said. "We won't have to spray for worms, and these varieties look great, emerged well and appear to have good yield potential. Unfortunately, excessive rainfall on open cotton put a lot of lint on the ground and prevented us from seeing the real yield potential of all varieties we planted."
Near Buckholts, Texas, Aaron Martinka was working on a pivot in July and noticed moths flying through his cotton. Upon further investigation, he saw square shed and bollworms chewing on the cotton. Pressure eventually reached threshold in most of his cotton, and he was forced to spray.
Martinka also planted both DP 1835 B3XF and DP 1845 B3XF, looking for Bollgard 3 technology to provide protection in varieties that can offer close to the high yield and good fiber quality he has received with DP 1646 B2XF.
"This was the first year that I have seen bollworm threshold high enough to warrant a spray on cotton with Bollgard II® technology," said Martinka. "My Bollgard 3 cotton was clean and free of worms in the same field with Bollgard II technology. The Bollgard 3 varieties looked really good. I planted DP 1835 B3XF under irrigation next to DP 1646 B2XF, and I really like the way DP 1835 B3XF looked compared to DP 1646 B2XF. It has a lot of fruiting positions and a lot of 5-lock bolls."
Martinka's cotton crop suffered through intense heat in July, with two weeks of hundred-degree days and hot nights. He believes the stress adversely affected cotton performance this season, with some dryland fields making less than a bale per acre. It was just that kind of year, he said.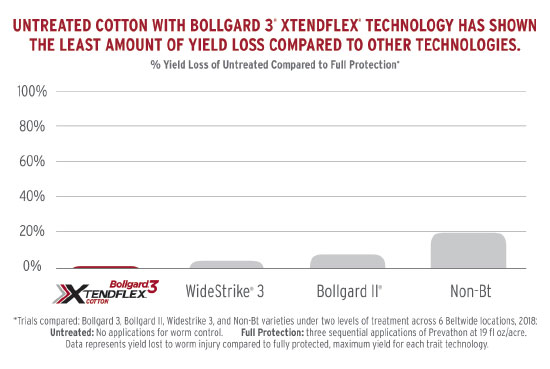 After the intense heat stress of July, he was forced to make a crop in about 10 days, which also adversely impacted his crop's ability to reach full yield potential. Irrigated fields, however, averaged 3 to 3.5 bales per acre. While DP 1835 B3XF out-yielded DP 1646 B2XF under irrigation, DP 1646 B2XF performed better in dryland fields. After the roller coaster season of 2018, Martinka has his 2019 planting plans figured out.
He plans to plant DP 1646 B2XF on dryland acres, where perhaps it won't grow as lush and be quite as attractive to bollworm moths. He'll try DP 1835 B3XF and DP 1845 B3XF on irrigated ground, where cotton typically gets more bollworm pressure. He'll have Bollgard 3 technology in those fields for protection against the pests.
"DP 1646 B2XF is hard to beat, and I'll need to see DP 1835 B3XF and DP 1845 B3XF again from a variety performance standpoint before I replace my main variety with them," he said. "Under irrigated conditions, DP 1835 B3XF and DP 1845 B3XF are really good, and they have Bollgard 3 protection."