Once pegged as Mid-South-type cotton, Deltapine® varieties – paced by improved performance and Bollgard II® XtendFlex® technology – are being planted on more and more acres across the state of Texas and the Southwest.
It's a factor of fit over force, said Darren Jones, Deltapine commercial development breeder based at the Monsanto Texas Breeding and Technology Center in Lubbock.
"In West Texas, for example, we no longer have to force the Deltapine Southeast-type varieties to fit this market," he said. "We are here developing varieties that fit West Texas, as well as the other diverse growing regions of Texas. The force-to-fit ratio is now leaning more toward fit in our program, and that is a sign of having a really strong, healthy pipeline for Texas."
Breeding, testing and selecting cotton varieties for such diverse growing conditions that exist in the state of Texas is not an easy job. Across the cotton production regions of Texas, you can find a little of it all – abundant rainfall to not nearly enough, short growing seasons to long, insect pressure and hail storms. Cotton is grown in regions that sit 4,000 feet above sea level to coastal areas that used to be swamps.
Monsanto's investment in breeding and testing cotton in Texas has resulted in improved genetics that fit the various soil types and growing climates of the Southwest, and has pushed yield and fiber quality potential upward. The pipeline is narrowing to where more and more Deltapine varieties brought to the Texas markets will be Texas bred and developed, said Jones.
"There will always be varieties developed in one of our other regional programs that perform well in Texas, and DP 1646 B2XF is a prime example," Jones said. "But, the goal for our breeding and testing program in Texas is to provide growers with Texas-bred material that performs to the specific needs of these growers, and to have more of our lineup stacked with those types of products rather than bringing material in from other regions."
Lines developed in other regions are brought to the Texas program for testing and for cross-breeding. No longer does the Deltapine brand have to force varieties to fit Texas growing markets.
"We are at a place where we can choose varieties for Texas markets because they fit, not because we need to get a variety to a particular market," adds Jones.
Deltapine has been breeding and developing cotton in Texas for decades, dating back to its sister brand, Paymaster. By the year 2000, the focus had changed to developing more picker-type varieties by cross-breeding Texas genetics with picker varieties from the Southeast. Since 2010, when DP 1044 B2RF was released, better-yielding picker-type varieties that fit Texas growing conditions have been offered by Deltapine.
During the breeding phase of variety development, thousands of lines are screened, and only those showing high yield and good fiber quality, plus other desired agronomic traits, are selected to move into commercial development testing. At this stage, the lines are planted in numerous environments to determine how they will perform in various water availability rates. Only the best-performing lines showing desired performance potential will move into broader field testing to determine where they may fit.
With yield and fiber quality now much improved in Texas, the breeding team's focus has turned to more detailed characteristics such as maturity, disease and nematode resistance, and storm tolerance. To do this, the Deltapine Texas programs are split by growing regions, allowing breeders to better select for desired traits of a given region or growing condition, said Nilesh Dighe, Deltapine line development breeder in Lubbock.
"We have good yield and fiber quality in our varieties, but we are also combining that with specific needs of Texas growing regions by addressing such things as verticillium wilt tolerance, storm tolerance, nematode and bacterial blight resistance, and maturity, to name a few," he said. "The strength of Deltapine is its germplasm. It has the best germplasm in the world in which to find desired traits in high-performing genetics."
His team is looking at very early maturity lines, earlier than DP 1612 B2XF, targeting the Northern High Plains markets. They are selecting for short growing seasons and very determinate type plants with high yield and premium fiber quality characteristics. Early in the selection process, high-yielding and good fiber quality lines with resistance to diseases and nematodes are being identified, and only those lines are moved forward in the development program.
The current slate of Deltapine varieties offered for planting in Texas – including Texas-developed DP 1518 B2XF and truer High Plains-type products in the Class of 18 lineup – represents the first wave of Texas-bred Deltapine offerings.
"This is only the beginning of what we will see coming from our program in the years to come," said Jones. "Because of the efforts made over the past 7 to 10 years, we are bringing lines to Texas with the right maturities and right resistances that offer high yield potential and premium fiber quality."
It all boils down to finding the varieties that have the best fit for the diverse growing regions of Texas.
Texas-Proven Performance
The final phase of cotton variety testing – and what separates Deltapine cotton varieties apart from competitors – is the New Product Evaluator (NPE) Program, which brings together more than 60 cotton growers in Texas, representing all growing areas of the state, to evaluate the final variety candidates in their own large-acre trials, under their unique management systems. Feedback from the NPE growers helps the team determine which candidates to commercialize and how to position those new Deltapine varieties on farms in different regions with various management programs.
The Deltapine Class of 18 cotton varieties included two lines available for planting in 2018 that were bred and developed in the Monsanto Texas cotton program.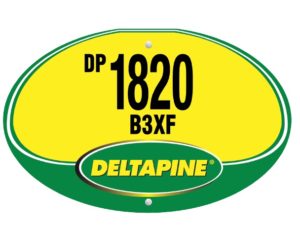 DP 1820 B3XF – This early- to mid-maturity variety exhibits excellent fiber length, micronaire and strength, along with excellent yield potential. This new variety offers Bollgard® 3 XtendFlex® technology and bacterial blight resistance. In 2017, it demonstrated good performance in West Texas markets where DP 1612 B2XF is grown.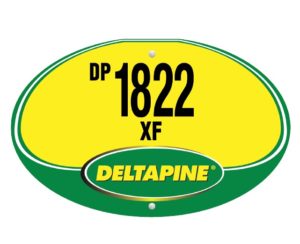 DP 1822 XF – Developed for West Texas markets, this early- to mid-maturity variety with bacterial blight resistance showed good tough-acre performance in 2017 NPE Program evaluations and outstanding fiber quality, and it provides the flexible weed control offered in the Roundup Ready® Xtend Crop System.
Over the past 10 years, the NPE Program has been instrumental to the Monsanto cotton team's ability to continually deliver better cotton varieties that meet or exceed grower expectations. The growers' feedback is also relayed to the breeding team for consideration during future cycles of variety testing and advancement. Deltapine cotton varieties are proven to perform by Texas NPE growers.