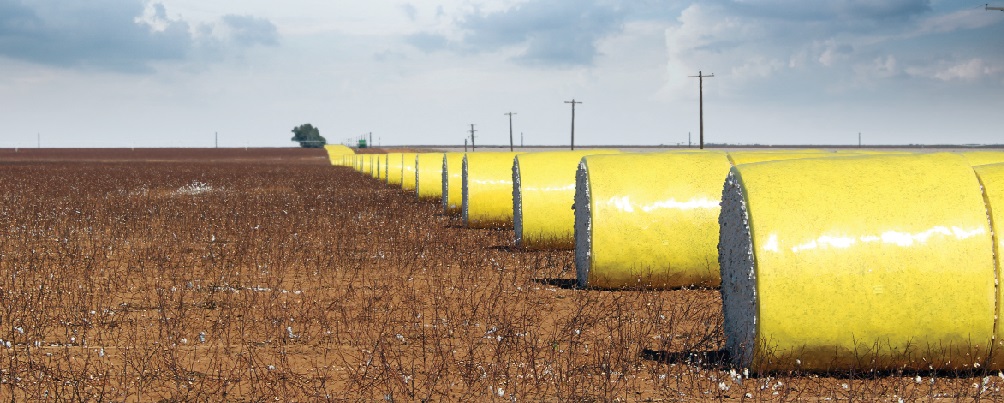 Three Deltapine® Bollgard® 3 XtendFlex® cotton varieties that fit southwestern markets will be available for planting in 2018, with performance potential featuring high yield and outstanding fiber quality.
The introduction of Bollgard® 3 technology in commercial Deltapine varieties provides three unique proteins and modes of action to growers, helping deliver better insect control while increasing the longevity of the technology. Bollgard 3 technology contains the protein called Vip3A, which provides a third mode of action in addition to the Cry1Ac and Cry2Ab Bt proteins found in the Genuity® Bollgard II® trait. Cotton with XtendFlex® technology is tolerant to glyphosate, glufosinate and dicamba, providing added choice and flexibility to apply multiple combinations of these three herbicides pre- and/or post-plant for a very effective weed management system.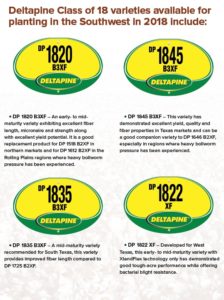 The new Deltapine Bollgard 3 XtendFlex varieties are part of the Class of 18, the tenth New Product Evaluator (NPE) Program variety class to introduce new commercial varieties incorporating feedback from select growers in every region of the southwest.
In 2016, brothers Nick and Stanley Joe Pinkston in Sinton, TX, experienced heavy enough bollworm pressure that they had to spray their cotton to protect the yield potential. In 2017, as participants in the Deltapine NPE Program, the Pinkstons were able to grow and test the new Deltapine Bollgard 3 XtendFlex varieties in 2017 under heavy egg lay. What they saw was impressive, according to
Nick Pinkston.
"The Bollgard 3 XtendFlex cotton varieties had zero damage that we could see," he said. "We didn't see any bolls that were damaged or that did not open up. While we didn't have to spray our cotton with Genuity Bollgard II technology and were glad to see DP 1646 B2XF hold up under the pressure, we know bollworms are eventually going to break through the second-generation technology, so Bollgard 3 technology is important for us moving forward."
In addition to excellent bollworm control, the Pinkstons also saw good yield and fiber quality performance in the new Deltapine Bollgard 3 XtendFlex varieties they evaluated last growing season. The varieties yielded closely to their main variety, DP 1646 B2XF, and showed outstanding fiber quality.
"I think Bollgard 3 XtendFlex varieties are going to be beneficial to us," Nick said. "That is where the technology is going, and we need it to go that way. We need to make as many pounds per acre as we can in every field, and Bollgard 3 XtendFlex cotton can help us do that."
The Deltapine Class of 18 is significant, as it marks the full commercial launch of the first Deltapine Bollgard 3 XtendFlex cotton varieties, said Keylon Gholston, Deltapine Product Manager.
"These varieties are unique because they combine the highest-performing genetics with the best weed control and next-generation worm control technologies," he said.
Class of 18 High Yields in Texas
The Deltapine Class of 18 varieties were proven to perform in the markets in which they will be sold for planting in 2018. To show the true performance potential of new Deltapine varieties, NPE growers from each region are awarded for making the highest yield with each new release.
The Class of 18 yield winners from Texas are:
DP 1820 B3XF
• 2,143 lbs/acre – Gerald Berry, Freimel Farms in Panhandle, TX
DP 1835 B3XF
• 2,824 lbs/acre – Jared Boehme, BW Farms in Castroville, TX
DP 1845 B3XF*
• 2,035 lbs/acre – Joe Posey in Rotan, TX
• 2,470 lbs/acre – Levi Burns in Harlingen, TX
*Two yield awards were given for this variety because it fits well in most growing regions of Texas.
DP 1851 B3XF
• 1,635 lbs/acre – Schniers Brothers (Doyle & Daryl Schniers) in San Angelo, TX
DP 1823NR B3XF
• 2,494 lbs/acre – Johnny Lindley in Memphis, TX
DP 1822 XF
• 2,090 lbs/acre – John D. Walker in Plainview, TX