West Texas Tough Performance
The 2018 growing season in West Texas was a perfect opportunity for newer Deltapine® varieties with Bollgard® 3 XtendFlex® technology to show how well they can handle the tough Texas conditions.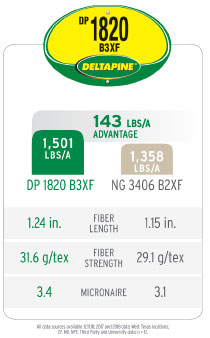 DP 1820 B3XF
Jerry Lewis plants DP 1646 B2XF on his farm in Wellington, Texas, because of the consistent top-end performance potential it provides. The 2018 growing season got off to a very dry start—no moisture prior to planting time, and no moisture after seed was sown. His pivot and drip-irrigated fields had trouble providing adequate moisture.
Looking for a variety with better early vigor, but packing the same high-end yield and fiber quality potential of DP 1646 B2XF, Lewis gave DP 1820 B3XF a try on two of his fields in 2018. Throughout the growing season, Lewis thought things were off to a bad start and predicted the results would be average at best. However, farming is full of surprises.
"One irrigated field planted to DP 1820 B3XF averaged 2,403 pounds per acre," Lewis reported. The second field, after he went back to harvest the rest of the cotton following a long rain period, averaged close to 2,200 pounds per acre.
"I watched the variety all summer and felt disappointed in the way it looked. I did not think it would make what it made," Lewis said. "But, it really shocked us at harvest. It was the best (yield) I have ever made. I had some top out in 2017 at 4 to 4.5 bales per acre, and I did not think I would ever top that."
Much of his cotton received lots of rainfall after bolls had opened up, causing color and leaf grades to take a hit. The rest of the fiber qualities in his DP 1820 B3XF were outstanding.
"We were getting 38 and 39 staple lengths, the strength was 32.5 and the mic was premium at 4.3," Lewis said. "Had I not stripped the one field when it was too wet, leaf grade would have been better on those bales. The color grade was off due to the rainfall we had on open cotton. I can't blame either of those things on the variety."
Lewis found DP 1820 B3XF to be easier to manage with plant growth regulators than DP 1646 B2XF.
On the field that averaged 2,403 pounds per acre, he felt he managed growth well and defoliated at the right time. The field stripped clean at harvest.
"I've been farming for nearly 50 years, and I missed the yield projection by a bale to the acre on this variety," he said. "I just did not think it was nearly that good. It has a very compact boll. We noticed when we began stripping that our module weights went up 300 or 400 pounds versus the other varieties we were stripping."
Lewis also saw the Bollgard® 3 technology in action in 2018. A neighbor had planted cotton with Genuity® Bollgard II® technology on two sides of a circle of
DP 1820 B3XF. He says the grower had to spray his cotton for worms, but he never had to spray the variety with Bollgard 3 technology. Lewis said he is back to getting good control of weeds in his fields with the Roundup Ready® Xtend Crop System for cotton. He saw few escapes in 2018, and he never had to hire a hand-weeding crew to clean up a field.
After some consultation with other growers, Lewis has formulated a plan for 2019. He will plant DP 1646 B2XF under pivots and water it until it comes up. He plans to plant DP 1820 B3XF on his drip-irrigated fields, where it had no issues with emergence in 2018.
"I am not going to quit DP 1646 B2XF yet; I just have to figure out how to get it up quicker and to a stand," says Lewis. "Once it gets up and going, it is a top performer. I did not think anything could beat DP 1646 B2XF in yield and quality, but
DP 1820 B3XF might give it a run for the money. I am excited to try it again in the coming season, under different conditions."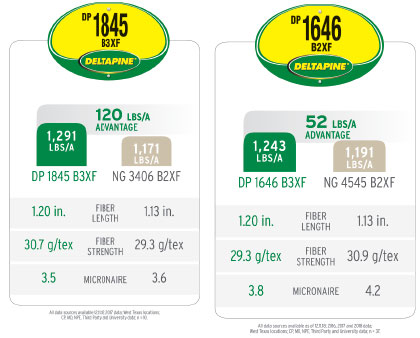 DP 1845 B3XF and DP 1646 B2XF
South of Lubbock, Chris Matchek planted
DP 1845 B3XF in 2018 on a 60-acre drip-irrigated field on his farm near Garden City. He planted an additional 400 acres to DP 1646 B2XF, his standard variety. Although some of the cotton experienced hail and much of it received upwards of 10 inches of rainfall during harvest time, the end results were still impressive.
"From what we have ginned, the DP 1646 B2XF has been 54 cents in the loan, all 37 and 38 staple, and most of it averaged 4 bales per acre or more," according to Matchek. "The DP 1845 B3XF performed well above our expectations. We're thinking it made about 4.5 bales per acre."
Matchek found DP 1845 B3XF to be easy to manage with PGRs, making three applications in his DP 1646 B2XF and only one in his DP 1845 B3XF. He says DP 1845 B3XF was tight in the bur.
"There was not a lock on the ground after all that rain and some hail on it," he recalled. "It's just a super-great variety, and we are excited to see what the grades will be. We're going to go almost all the way with those two varieties in 2019. We are excited about planting DP 1845 B3XF on dryland to see what it can do there."
DP 1612 B2XF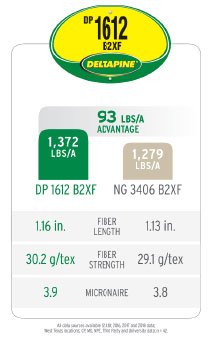 Farming in the center of the Texas Panhandle near Groom, Dustin Babcock has a tight window in which to make a cotton crop during most seasons. The 2018 planting season began in early May with dry, hot and windy conditions. His center pivots had trouble keeping enough moisture in the ground. In those types of conditions, Babcock needs varieties that emerge quickly and grow into a stand, and DP 1612 B2XF hits the mark.
"DP 1612 B2XF was one of the first varieties to come up, and it grew into excellent stands," Babcock said. "A few other varieties struggled in the tough early conditions. Each time we'd put cold water on them with the center pivots, they'd stall out. DP 1612 B2XF did not stress when it was cooled off by the water."
It was a tough, dry, early start to the 2018 season, and then fall also came early. DP 1612 B2XF was the first variety on his farm to reach harvest time, finishing 10 days sooner than the other products planted. He stripped one field that averaged 3.8 bales per acre. Another circle ginned out at 4.1 bales per acre.
"Definitely more than I expected," says Babcock. "Fiber quality is what made me plant
DP 1612 B2XF. We used to plant Paymaster, and when that brand went away, we tried other brands. But now we're back planting Deltapine and certainly XtendFlex® technology and the Roundup Ready® Xtend Crop System here helped bring us back. DP 1612 B2XF has now taken hold. I really like it."
DP 1822 XF
After seeing DP 1822 XF in his 2017 Deltapine NPE plots, Northern High Plains grower Robbie Harkey decided to plant it on his fields with weaker irrigation capacity. The 2018 growing season turned out to be a tough one, with extreme drought and heat throughout the spring and summer; it was one of the driest summers in years.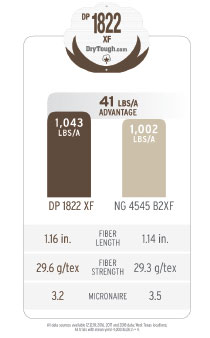 Dryland cotton never had a chance, and many of Harkey's center-pivot fields with limited irrigation capacity had trouble keeping enough moisture on the cotton. At harvest time, rain fell and fell, and then it turned to snow later in the fall. Through it all, DP 1822 XF showed solid performance and proved to be a tough variety in those challenging West Texas conditions.
"Seed vigor was exceptional, and it came out of the ground very well," Harkey said of the variety. "What impressed me the most about this variety is how it hung on through the tough conditions and was durable enough to perform in the weak-watered fields. It did a fabulous job. It yielded well, and the fiber quality was exceptional for the conditions it was under all season long."
In 2018, DP 1822 XF averaged 750 to 800 pounds per acre for Harkey in fields with very limited moisture. Despite the rainfall on his open cotton, he felt the variety held its lint well. The bales went into the loan at 54.0 to 54.5 cents. He says the maturity on DP 1822 XF fits his growing region well, and he plans to plant it again in 2019.
"You talk about West Texas tough cotton—this variety fits that label," he said. "I'll plant DP 1822 XF on my circles with limited irrigation again, and probably try it on some dryland acres as well. Seeing it under those conditions we had, I'm really excited about what this will do in a season where we receive rainfall and have a chance to really push for higher yield."
DP 1549 B2XF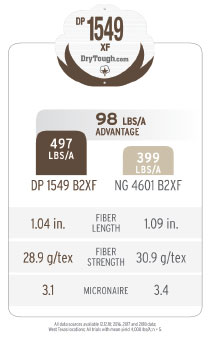 When the only cotton that grows into a harvestable stand was planted in fields with adequate moisture, you know it was a tough season. That's the kind of season 2018 was for Jody Yates, who farms in Tarzan 100 miles south of Lubbock, Texas.
Dryland fields never caught a rain, and center-pivot circles struggled to keep up. When time came to strip cotton planted on irrigated fields, harvesters could not move into the fields due to rain. Yates planted DP 1549 B2XF for the first time on his farm in 2018. He was impressed with the variety's performance on his irrigated fields in the tough 2018 growing season.
"I had one circle of DP 1549 B2XF that did not have any rainfall to help, and all it had was about 450 gallons per minute through the pivot, which never turned off," says Yates. "That field made 4.2 bales to the acre. That's the most that circle has ever made, even in a good year when it got rainfall and was planted in other varieties. This variety just kicked all the other varieties in the teeth in a really tough year."
DP 1549 B2XF was particularly impressive to Yates given its ability to withstand the stress caused by high temperatures and little moisture. When it got to the triple-digit-degree days of July and August, the center pivots had trouble keeping the cotton adequately watered.
"DP 1549 B2XF held in there and never did show stress," he said. "It was awesome in a tough year like 2018. I can't imagine what it will do in a good year when we get rain."
The Southern High Plains is an arid environment. A typical season consists of 14 inches of rainfall, with most of it happening within the growing window of May through August. One rain event a month is ideal. In 2018, practically all of the rainfall occurred during harvest time, causing color issues and defoliation problems, which led to bad leaf grades. Staple, micronaire and strength on DP 1549 B2XF during this tough season were good, according to Yates.
"I'm planning to have at least two circles planted to DP 1549 B2XF in 2019," he says. "We'll study it between now and this spring about its fit for dryland, but we will plant it on irrigated fields, for sure. I was very pleased with this variety."