Because of consistent high-end yield and fiber quality performance across the Southwest, DP 1646 B2XF seems to have become the variety by which all others are measured. In 2018,
DP 1845 B3XF measured up very well—and it offered a little extra.
Just west of San Antonio in Castroville, Texas, Troy Bippert put DP 1845 B3XF to the ultimate test in 2018, splitting a 90-acre irrigated field between it and DP 1646 B2XF. Bippert noticed both varieties were similar in growth habits and plant height at the end of the season. After defoliation, he said he could not tell visually which variety was which.
Before a harvester could get into the field, the skies opened up with rain, dumping upwards of 15 to 25 inches on his fields of open cotton.
"Going by module counts on the 90-acre field, even after the rainfall, both varieties picked over 3 bales per acre," said Bippert. "So, despite the rainfall on open cotton, the yield was still there. There was not much difference in the yield between the two varieties in that field."
A difference he did experience was with bollworm control. DP 1845 B3XF, which contains Bollgard® 3 technology, did not require an insecticide application for bollworm control, while all of his Genuity® Bollgard II® cotton was sprayed once.
"Bollgard 3 saved us from the cost of another insecticide application, and that is helpful," Bippert said. "Plus, I believe the technology helps in terms of preventing the worms from feeding on the bolls, preserving our yield potential."
Fiber qualities on DP 1845 B3XF were also on par with DP 1646 B2XF, said Bippert, who participates in the Deltapine New Product Evaluator (NPE) Program. Because of the rainfall, open cotton suffered, and color and leaf grades were by and large off on many bales. With DP 1845 B3XF, even with 15 to 20 inches of rainfall on it, Bippert saw excellent strength, staple and micronaire.
"We planted early into cool soil temperatures not good for quick emergence. Our stand counts were only 25,000 plants per acre, and we had fields that averaged 3.5 bales per acre. The varieties really adjusted for the thin stand count and delivered," Bippert reported. "We will definitely try DP 1845 B3XF again because of the yield and fiber quality performance, and because of the Bollgard 3 protection we'll get with that variety."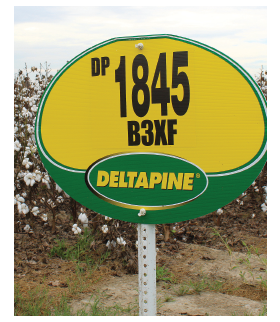 In the Coastal Bend near Sinton, Texas, Erich Schneider, also a Deltapine NPE grower, has grown DP 1845 B3XF and DP 1646 B2XF on his farm for two seasons. He sees a variety in DP 1845 B3XF that doesn't tend to make high micronaire, an annual battle in this region due to typically dry summers and wet falls.
In 2018, Schneider had both varieties as checks in the NPE plot, plus he planted the balance of the field—about 165 acres—to DP 1845 B3XF. Part of the field was irrigated, the rest was dryland. After ginning the varieties separately, it was apparent that fiber quality was outstanding on his DP 1845 B3XF, and it compared well to DP 1646 B2XF.
"While DP 1646 B2XF out-yielded DP 1845 B3XF by a bit, the mic on DP 1845 B3XF was much lower than DP 1646 B2XF—4.65 compared to 5.11," Schneider said. "The rest of the qualities on both varieties were very good and very similar. The DP 1845 B3XF did not tend to high mic in the high-mic year. It yielded well, had good fiber properties overall, had excellent lint turnout and was easier to manage."
The 2018 growing season was tough, according to Schneider. Irrigation could barely keep up, and dryland fields suffered mightily. Once cotton opened up, rain fell. Through it all, Schneider managed to remain positive and settle on varieties for 2019.
"In 2017 and 2018, DP 1845 B3XF and DP 1646 B2XF were basically neck and neck," he said. "I think we have two very good cotton varieties that we can hang our hats on out here."