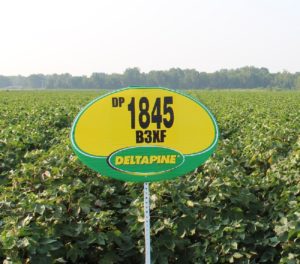 DP 1845 B3XF is the newest mid-maturity Deltapine® variety to deliver strong yield and outstanding fiber quality potential. Additionally, the variety offers Bollgard® 3 XtendFlex® technology, the industry's premier bollworm and weed control trait technology to help growers better manage costly pests.
In 2017, this variety stood out in Deltapine New Product Evaluator (NPE) trials across South and East Texas, the Mid-South and the Carolinas, which resulted in strong demand for the variety in 2018.
Garrett Cerny, who farms with his uncle in the Crescent, TX, area located on the Upper Gulf Coast, was looking for a variety that could provide yield on par with DP 1646 B2XF and improved fiber quality. He planted two irrigated fields totaling 300 acres to DP 1845 B3XF in 2018. He planted the variety at the end of March, and the two fields suffered cold conditions in April followed by hot, droughty conditions early in the summer. Cerny said DP 1845 B3XF held up during the stress periods, was irrigated just once and looked great on harvest day, Sept. 5.
"The variety is probably going to average around three bales to the acre, which is pretty good considering the weather conditions this season," Cerny said. "It looked beautiful in the field, with big bolls and fluffy cotton when it opened up. There were a lot of five-lock bolls, with lots of seeds in each lock. So, just from picking it and looking at it, DP 1845 B3XF appears to be pretty comparable to DP 1646 B2XF."
Both fields, one with 231 acres and the other with 78 acres, were very consistent in growth, management and yield, said Cerny. He felt DP 1845 B3XF was easier to manage with PGR than DP 1646 B2XF, but that could be due to droughty conditions. He plans to plant more of DP 1845 B3XF in 2019.
"It was a busy-growing plant, fruited up well and picked clean," he said. "I would recommend people plant this variety to give it a try."
Over in Grenada County, MS, grower Coley Bailey planted all of the DP 1845 B3XF seed he could get this season. He first experienced the variety in his Deltapine NPE plot last year, when he was looking for a variety that might replace his mainstay, DP 1555 B2RF, which has performed well across the varying soil types on his farm. It took until later in the season for DP 1845 B3XF to catch his attention. But when the picking and ginning was over, it was a no-brainer – DP 1845 B3XF outyielded all the rest.
"In our 2017 NPE Plots, DP 1845 B3XF was planted in the weakest part of the field, and it averaged 1,602 lbs/acre," Bailey recalls. "That told me it could be a good variety for marginal ground. We've been able to put DP 1555 B2RF anywhere on the farm and it does well, whether planted in poor soils or on our better-growing ground. In my opinion, DP 1845 B3XF looks to be consistent across the soil types we have."
Fiber quality on DP 1845 B3XF was also good in the 2017 NPE plot, said Bailey, with a lot of bales showing 40 staple length and 4.0 mic, and going into the loan at a premium. He said the Deltapine brand has done a good job of combining high yield and good fiber quality potential in its new varieties.
Also important to Bailey is the Bollgard 3 XtendFlex technology for better bollworm protection and more modes of action to use in his weed control system. Heavy bollworm pressure in his area triggered over-sprays of fields in 2018. Bailey and his consultant counted egg lays in his DP 1845 B3XF cotton as high as 60% but never noticed damage and never sprayed.
"The technology was working," he said. "It's just so much better for the environment when my sprayers are not out here spraying chemicals, not to mention the cost savings to the farm."
A month before harvesting his 2018 crop, Bailey says his DP 1845 B3XF looked very good.
"It had better square and boll retention, and a better boll count a month prior to harvest than any other variety that I planted," he said. "I'm happy with the way it looks."
DP 1845 B3XF
Smooth-leaf
Mid-full maturity
Moderately resistant to bacterial blight
Bollgard 3 XtendFlex technology
Broad adaptation across South and East Texas, the Mid-South and the Carolinas
High-yielding companion product to DP 1646 B2XF in many markets
Potential for premium fiber quality

Performance may vary from location to location and from year to year. ALWAYS READ AND FOLLOW IRM, WHERE APPLICABLE, GRAIN MARKETING AND ALL OTHER STEWARDSHIP PRACTICES AND PESTICIDE LABEL DIRECTIONS. Bollgard®, Bollgard II®, Respect the Refuge and Cotton Design®, Roundup Ready®, Roundup Technology®, Roundup® and XtendFlex® are registered trademarks of Bayer Group. Deltapine® is a registered trademark of Bayer Group. All other trademarks are the property of their respective owners. ©2018 Bayer Group, All Rights Reserved.