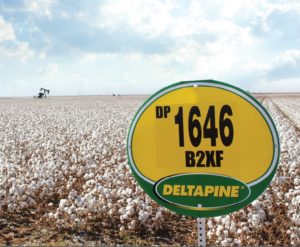 When it comes to Strong Cotton in Texas, Deltapine® cotton stands above the others because of the strength of its complete package, from superior breeding and advanced genetics and traits, to outstanding yield potential and fiber quality.
In 2017, DP 1646 B2XF set the bar for yield and fiber quality performance across the state. The mid- to full-season variety caught the attention of growers and ginners during harvest.
"It's some of the best cotton I've ever had," said Weldon Shook, who farms irrigated ground in a no-till system in Gaines County near Seminole, TX.
Shook tried the Deltapine® Bollgard II® XtendFlex® variety for the first time in 2017 and averaged over five bales per acre with it. The growing season was bookended by cool, damp weather early and extreme conditions in September to hamper the finish. Timely rainfall in August helped with fruit set, but late rains impacted micronaire on a lot of acres in the region.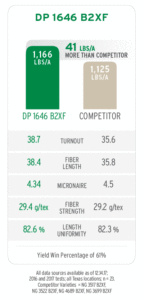 Despite the slow start and late rains, DP 1646 B2XF performed very well for Shook and many others in the area.
"The grades were very good," said Shook. "Micronaire was premium, staple was very long and it made a good lint yield. I am part owner of a gin, and at our gin, DP 1646 B2XF is in the top end of grades this season – right up there with FM 1830GLT, which has done well out here because of its long staple. At most gins I've been into out here, DP 1646 B2XF has been in the top three in terms of fiber grades, and the yields have been good, too. We've had a lot of folks have a good experience with DP 1646 B2XF."
In addition to yield and fiber quality, weed control with the Bollgard II XtendFlex variety is another reason to keep growing it, said Shook. Gaines County is a hot bed for resistant weeds, and having another herbicide mode of action to use is important for long-term control, he said.
"I always use yellow herbicides, and the Roundup Ready® Xtend Crop System just fits right into that program," he said. "When you have escapes, it gives you that flexibility to go in with dicamba and take care of them. Plus, I am in a no-till system here and don't really want to have to cultivate, and the system allows me to continue with my program the way I want to. It is a good fit for us."
DP 1646 B2XF will be back on Shook's farm in 2018.
"We had more rainfall than what we typically receive. I did have to make PGR applications twice, and it was still fairly aggressive growing," he said. "But, the end results are too phenomenal to not continue to plant this variety."
In eastern Texas, crop consultant Jason Deckert scouts cotton from Austin to the Red River region north of Dallas and over east into Arkansas. He scouted many acres of DP 1646 B2XF in 2017 and says the variety shines in terms of yield and fiber quality performance across his pie-shaped territory encompassing more than 50,000 acres.
"This variety has been a very consistently good-performing variety," Deckert said. "DP 1646 B2XF has performed at the top wherever we've planted it. We had pretty good weather at times – maybe a little more rain than we needed, but overall, the variety did well. The fiber grades were fantastic. There are varieties to plant that offer good yield but not good quality and vice versa, but DP 1646 B2XF performs both ways."
Deckert said staple length, strength, micronaire and uniformity stood out in DP 1646 B2XF. He is booking enough units for his farmer-customers to plant upwards of 50,000 acres in 2018.
"We have guys farming high-input acres, and they need varieties that can grow for the long season and make pounds and good grades. This variety fits that bill," he said.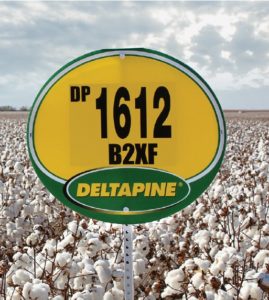 DP 1612 B2XF
In addition to the popular DP 1646 B2XF, which travels well, there are other Deltapine varieties that meet the needs of Texas growers.
In the upper Panhandle just south of Amarillo, the growing season is shorter, there are fewer heat units to accumulate than what's available down closer to Lubbock, and fields sit at a higher elevation. For two seasons, DP 1612 B2XF has proven that it has the right maturity and performance potential for this region.
"We've had really good luck with it," said Rodney Schulte, who farms cotton and sells seed for CHS, Inc. "I had a 45-acre irrigated field and a 22-acre dryland field in 2017. I did not put more than five inches of water on the pivot field. It made 1,870 lbs/acre, and the dryland field averaged right at 2.5 bales. That is very good cotton performance for this region. Typically, 1,500 pounds would be great on irrigated, and 1 to 1.5 bales very good for dryland fields."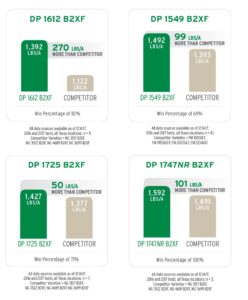 Cotton planted prior to May 15 in this region fared better than later-planted cotton due to an August that featured more rain than normal and too many cloudy days. The conditions impacted the later-planted cotton's ability to fill out bolls. Schulte planted his DP 1612 B2XF fields before May 15. He saw many fields planted later that yielded well, but perhaps not reaching their full potential because of the August conditions.
Schulte said fiber quality and weed control are also advantages of planting DP 1612 B2XF. Being able to add labeled dicamba formulations to his herbicide program was a boost in managing resistant pigweed, he said.
"The fiber quality was good, and my bales went into the loan averaging 51 cents," Schulte said. "We plant faster-maturing varieties because we don't get the heat units they get down in the Lubbock area. We need early maturity, and DP 1612 B2XF fits well here. We will plant it next year."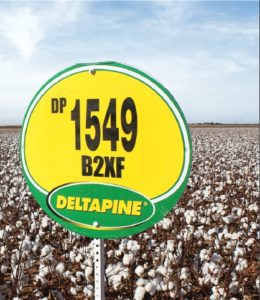 DP 1549 B2XF
On the dryland, sandy-soil fields 120 miles south of Lubbock, rainfall can be scarce, and a bale to the acre is considered a good yield. Vance Smith planted DP 1549 B2XF on his dryland acres near Big Spring for the first time in 2017. Ahead of gin recaps, he predicts an average of 1.8 to 1.9 bales per acre.
"It was planted on June 1, and a third of the field had to be replanted on July 4," said Smith. "We had a little more rainfall than normal, and the timing from planting on up with DP 1549 B2XF lined up perfectly. I will plant it again in 2018 on my dryland acres. It did very well on my sandier soils."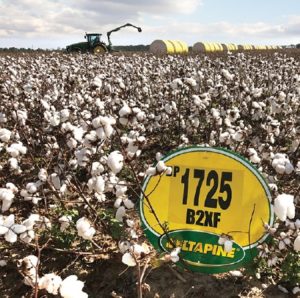 DP 1725 B2XF
This early-mid maturity variety is easy to manage with PGRs and offers outstanding fiber quality and high yield potential in south Texas.
DP 1747NR B2XF
This mid-full maturity variety offers root-knot nematode resistance and XtendFlex® technology for weed control, packaged in high-yielding genetics.
Growers looking for varieties that offer strong yield potential and the cotton industry's most effective weed control system can plant Deltapine varieties in 2018 to help improve their production and profit potential. Deltapine cotton varieties are the only cotton varieties tested and proven by New Product Evaluator (NPE) growers located across Texas.