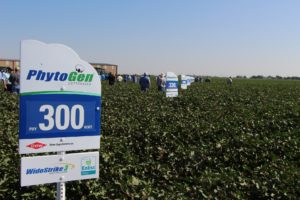 The PhytoGen breeding program — renowned for its industry-leading Pima varieties — has focused its efforts in recent years on West Texas. Cotton growers there have discovered that PhytoGen® cottonseed performs well under the often-harsh conditions in the area. In fact, producers across the area  recently attended a grower field day in Lubbock, Texas, and shared their experiences of thriving with PhytoGen.
Farmers like Bobby Byrd, from Plainview, Texas, who is growing PhytoGen brand varieties for the fist time this year, explains his decision.
"PhytoGen varieties were developed in the West and moved this way. I felt like the varietal selections from PhytoGen would be better suited for this environment," he says.
Kevin Belt, a cotton producer from Cotton Center, agrees. He said he switched to PhytoGen after going to field days and studying the varieties.
"When I began researching PhytoGen, I found that although they were newer to our area, they were not newcomers to cotton. They know how to grow cotton for regions similar to ours," he says.
Belt noted that PhytoGen is the market leader in the western Pima market and that he was interested in how the breeding team would bring those characteristics to West Texas. He's planted PhytoGen brand varieties PHY 490 W3FE, PHY 450 W3FE, PHY 300 W3FE and PHY 220 W3FE.
"I think 450 is going to be a hoss," he says. "It may be the best cotton I've ever grown. I'm also pretty excited about 220 — it came up really, really good and will finish fast for us there in the higher country."
As Belt and Byrd have found, the latest lineup of PhytoGen® brand varieties offers growers more in-plant protection options to help cotton thrive, protect quality and optimize yields.
Thanks to years of research, farmers now can choose from numerous PhytoGen brand Upland varieties with in-plant protection against soilborne and foliar diseases and pests, such as:
Bacterial blight resistance
Verticillium wilt tolerance
Root-knot nematode (RKN) resistance
Additional protection is in the works. Starting with new releases in 2018, many more PhytoGen brand varieties will carry two RKN-resistant genes, providing better tolerance to RKN pressure. PhytoGen brand varieties also are being developed to better tolerate reniform nematode and various environmental stresses, such as drought.
For more about early harvest results and yield protection traits from PhytoGen, go to PhytoGen.com or join the conversation on Facebook or Twitter.
###
®PhytoGen and the PhytoGen Logo are trademarks of PhytoGen Seed Company, LLC. ®™DOW Diamond, Enlist, the Enlist Logo, WideStrike and the WideStrike logo are trademarks of The Dow Chemical Company ("Dow") or an affiliated company of Dow. The Enlist weed control system is owned and developed by Dow AgroSciences LLC. Always read and follow label directions. PhytoGen Seed Company is a joint venture between Mycogen Corporation, an affiliate of Dow AgroSciences LLC, and the J.G. Boswell Company.
L53076072 (09/17) BR   DAAGPHYG7077