Southern farmers know weed control is a big challenge that can curb yield. For most of them, Palmer amaranth is particularly troublesome. They're looking for herbicide options to control this difficult and costly weed.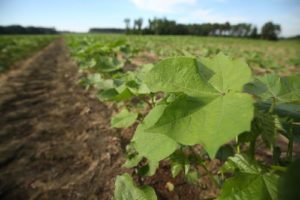 Jack Kent, an Arkansas cotton and soybean farmer, says the Enlist™ weed control system is providing a valuable tool.
"Enlist herbicides are going to allow me to control our worst weed," Kent says. Even in a field with a notoriously bad Palmer amaranth problem, he says Enlist Duo® herbicide excelled.
"It's not just pigweed," says North Carolina cotton farmer Aaron Burleson. "We have marestail, common ragweed and I just saw a patch of giant ragweed. We need options to get rid of these weeds."
Kent points out that a herbicide that controls problem weeds and stays where it's sprayed is an ideal solution.
"We need herbicides that will stay where we put them when we apply according to the label," he explains. "We used Enlist Duo herbicide this year and had absolutely no problems with any drift or gassing up and moving around."
Burleson also finds the Enlist system is easy to use. He says the 2,4-D choline in Enlist Duo and Enlist One™ helps these herbicides stay where he sprays them. That's important for his neighbors' surrounding crops.
"We do all of our own spraying," Burleson says. "We like Enlist Duo because of the premix with glyphosate. And Enlist One has more tank-mix options."
Enlist Duo is a convenient combination of 2,4-D choline and glyphosate. Enlist One is a straight-goods 2,4-D choline with additional tank-mix flexibility. Both herbicides feature Colex-D® technology, which reduces physical drift and greatly diminishes volatility to deliver on-target application.
David Underwood, also from North Carolina, likes the versatility of the Enlist system, especially the ability to mix Enlist One with glufosinate.
"We had a weed issue with Palmer amaranth on land we inherited," Underwood explains. "We knew it would be tough to clean up, but we are trying to be proactive this year. It handled the weeds. It did a really great job. The cotton is looking really good."
Malcolm Haigwood of Arkansas realizes the importance of properly using the technology. He read and followed the label directions.
"I had no problem following the label for Enlist One," Haigwood says. "The buffers were clear, and I liked the use rate and tank-mix options."
Like other farmers, he got the weed control he was looking for. "I'm impressed," Haigwood says. "Enlist One and the various tank-mix options provided excellent control. In addition, no volatility or drift with Enlist One. There are susceptible crops in the area, and we had no issues. It most definitely provided me confidence."
These farmers are among many who've experienced the Enlist weed control system in their fields and are anticipating using the technology in the future.
"It has done everything it's supposed to do," Kent says. "I can't say enough good things about that product. It's the best herbicide that I have ever seen in my life."
To learn more about the Enlist system, visit Enlist.com. To hear from other farmers using this technology, visit ExperiencingEnlist.com. You also can follow the Enlist system on Twitter at @EnlistOnline or go to the Enlist YouTube channel.
®™Trademarks of Dow AgroSciences, DuPont or Pioneer and their affiliated companies or respective owners. Enlist Duo and Enlist One herbicides are not registered for sale or use in all states or counties. Contact your state pesticide regulatory agency to determine if a product is registered for sale or use in your area. Enlist Duo and Enlist One herbicides are the only 2,4-D products authorized for use on Enlist crops. Consult Enlist herbicide labels for weed species controlled. Always read and follow label directions. ©2018 Dow AgroSciences LLC