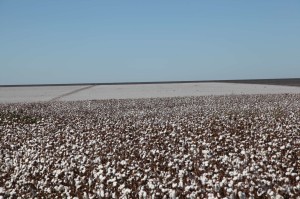 Editor's note: In June 2010, trade negotiators from Brazil and the United States created the Framework for a Mutually Agreed Solution to the Cotton Dispute in the WTO, an agreement created to avoid WTO-sanctioned trade retaliation by Brazil against U.S. goods and services. One major component of the agreement included annual payments of $147.3 million, paid by the United States to help create the "Brazilian Cotton Institute," which provides technical assistance to the country's cotton sector.
The Brazilian Cotton Institute (IBA) has taken 2012 off, after working hard on its governance structure in 2011. Projects started to arrive during the second half of 2011 and today, there are thirteen projects in the field. In 2011, two projects were concluded:
1) support for the 8th Brazilian Cotton Congress, and
2) a study, conducted by the Brazilian Cotton Grower's Association (ABRAPA), of the Brazilian cotton chain.
The ongoing projects focus on a number of different areas, such as pest and disease control, fiber quality, management and conservation of natural resources, compliance to the labor laws, purchase and use of capital goods, and international cooperation. Most of the projects will last for more than a year, with some lasting as many as five years.
The majority of the projects that are still active are related to pest control, with eight projects under way in six states. The main focus is on Boll weevil control and suppression, although some of the initiatives target nematode monitoring and control, cotton diseases, and weed resistance to herbicides such as glyphosate. The activities on all these projects consist mostly of technical assistance provided to farmers, as well as worker and technician training.
It is important to highlight ABRAPA's initiative on sustainability. The support for the implementation of the Better Cotton Initiative is important for the recognition of Brazilian cotton farms around the world, in terms of their ability to produce cotton in a sustainable way – from both environmental and social aspects. In addition to BCI, the national program, Brazilian Responsible Cotton (Algodão Brasileiro Responsável, or ABR), is also designed to implement best practices related to labor and occupational health and safety legislation.
Brazil and the United States agreed that it would be important to spend part of IBA's resources on international cooperation in sub-Saharan African countries; in Mercosul member and associate member countries; in Haiti; and in any other developing country that the parties agree on.
The Brazilian Cooperation Agency (ABC, an agency within the Ministry of External Relations) is implementing one project, in partnership with the United Nations Development Programme, in some African countries, including Burkina, Mali, Benin and Chad. Other countries that are being evaluated include Tanzania and Mozambique. Two other projects will start soon, one in cooperation with the Food and Agriculture Organization and the other with Embrapa International.
There are 10 other initiatives being evaluated at the moment and we expect that number to double by the end of 2012. The producer organizations are working hard to define their priorities and expand their projects in all of the areas that IBA can support, according to the Memorandum of Understanding between Brazil and The United States.
Coming projects are expected to focus on fiber quality, market information services, training and capacity building.