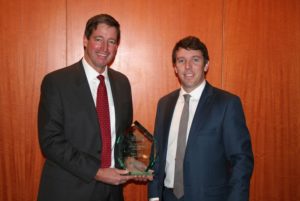 Barry Evans (left), with Cotton Grower Editor/Publisher Beck Barnes.
Barry Evans, a cotton producer and industry leader from Kress, TX, was honored by Cotton Grower magazine as the 2016 recipient of the publication's Cotton Achievement Award.
Evans was honored January 5 during Cotton Grower's annual luncheon, sponsored by Deltapine and held in conjunction with the Beltwide Cotton Conferences in Dallas. He becomes the 47th recipient of the award.
"In addition to being a successful cotton grower, Barry's tireless dedication to the industry has earned him the respect of many of his peers – from the dirt roads around Kress, to the board rooms in offices and upscale hotels across the Cotton Belt," said Beck Barnes, editor/publisher of Cotton Grower magazine.
"For his selfless dedication to the betterment of the American cotton industry on a local, regional and national level, we're pleased to honor Barry with this year's award."
Evans, who farms nearly 4,000 acres in the Texas High Plains, has been deeply involved in cotton and other agricultural organizations for many years. He is currently Secretary/Treasurer of the National Cotton Council, and has also served as Texas state chairman of the American Cotton Producers, as president of the Cotton Foundation, and as a member of The Cotton Board.
He is a past president of Plains Cotton Growers and currently sits on the Plains Cotton Improvement Program committee. He is also a past chairman of the Northern High Plains Boll Weevil Eradication Program Advisory Committee.
In addition, Evans is active with the Texas Alliance for Water Conservation and the Swisher County Farm Bureau. He is a graduate of the Texas Agricultural Lifetime Leadership Program.
"Barry Evans is one of those quiet, contemplative people who leads effectively while considering all viewpoints," says Steve Verett, executive vice president of Plains Cotton Growers. "He's a calm, steady force in any group, and when he talks, people listen because his suggestions and sound advice are always well thought out."
"Sustainability is what this is about," said Evans, as he accepted the award. "It's about making our land better, more fertile and using the tools that we have. My daddy used the best tools that he had at his disposal, and his dad used the best tools that he had available. I couldn't farm the way I do today a generation ago. It's a great story to tell. And I'm proud to be a part of it.
"I'm proud of what we do in American agriculture, and I'm proud to be an American farmer."