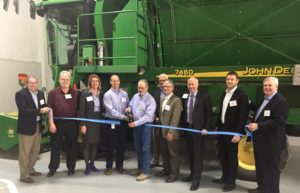 Cutting the ribbon on the new Bayer Lubbock Breeding and Trait Development Station are (from left) Tom Speed, Bayer cottonseed and traits; Tim Timmis, Bayer project execution; Margaret Shields, U.S. cotton breeding manager; Cory Mills and Steve Oswalt, Bayer station managers; Lee Rivenbark, head of seeds, Bayer North America; David Becker, global cotton breeding lead, Bayer; Dan Pope, mayor of Lubbock; Jason Wistehuff, Bayer product manager; and Mike Gilbert, Bayer global breeding and trait development lead.
Bayer has officially opened its new cotton Breeding and Trait Development Station in Idalou, TX, near Lubbock.
The innovative facility builds on a proven history of profitable, high-quality cotton varieties that Bayer brings to market through the FiberMax and Stoneville brands. The facility, which began operating in October 2016, will focus on genetically-modified and native trait development to provide solutions to agronomic challenges facing Southwest cotton growers.
"Bayer has led the way in cotton advancements for the Southwest since three employees opened our first facility in 1998," said Monty Christian, Bayer Vice President for U.S. Cotton Operations. "Since that modest start, Bayer has added two separate breeding stations, a seed processing plant, a quality assurance lab, a seed warehousing facility, and a state-of-the art research and development lab. We employ about 120 people in the Lubbock area – and we're adding 25 more with this breeding and trait development station."
"More than half of the U.S. cotton acreage is grown in this Southwest area, where Lubbock is the focal point. Work released from this facility will ripple across three million acres," noted Jason Wistehuff, product manager for FiberMax and Stoneville cotton. "Economic sustainability is essential to growers. Providing varieties that deliver higher profit potential with lower inputs and increased disease resistance will complement the knowledge and skill growers bring to cotton production year in and year out."
The Lubbock Breeding and Trait Development Station was part of Bayer's commitment to invest nearly $1 billion in the United States between 2013-2016 in new facilities and capital expansion to complement the approximately $1 billion invested globally in research and development annually. In addition to the Lubbock Station, Bayer also built a cotton breeding station in Dawson, GA, and multi-crop research and development facilities in Marion, AR, and White Heath, IL, in 2016.
"Bayer is committed to cotton. Bayer is committed to West Texas," said Mike Gilbert, vice president and Head of Global Breeding & Trait Development for Bayer. "For growers and for Bayer, it is important to continue expanding our seeds business through research and development, and this facility will bring together significant scientific and technology resources to support the advancement of the agricultural industry, specifically for cotton seed trait and plant research."
With exclusive traits and a product portfolio focused on addressing grower challenges such as limited water, bacterial blight, Verticillium wilt and nematode resistance, Bayer is poised to deliver higher returns for growers. Bayer offers integrated crop solutions in a range of products from seeds and traits, to chemical and biological protection products and services to ensure growers have the right tools they need when they need them.
The new Breeding and Trait Development Station will employ approximately 25 people who will work with a larger global team to promote advanced research on genetics, chemistry, and traits to provide holistic agricultural solutions to customers around the world. In addition to the full-time employees, many area residents will be hired each year to assist with planting and harvesting activities.
Source – Bayer