From Cotton Grower Magazine – November 2017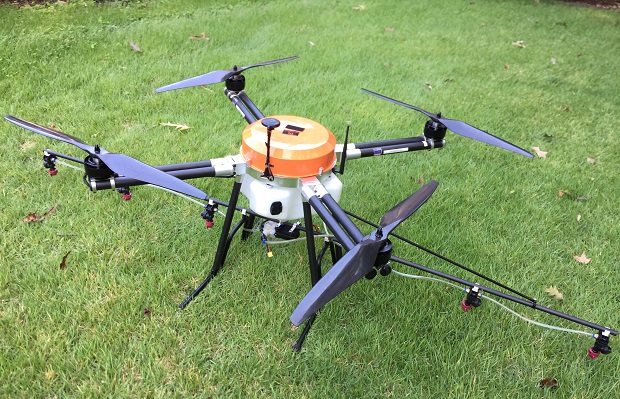 Photo: Dr. James Robbins
Interested in the rapidly growing demand and use for unmanned aircraft systems, commonly known as drones? Have questions about their fit in a farming operation, plus the associated risks and liabilities?
A special workshop session – "Risk & Reward: Small Unmanned Aircraft Systems for Agricultural Producers" – will provide the answers during the 2018 Beltwide Cotton Conferences (BWCC) set for January 3-5 at the Marriott Rivercenter in San Antonio, Texas.
The workshop, supported by a grant from the Southern Risk Management Education Center and the USDA National Institute of Food and Agriculture, will be led by Dr. James Robbins, Extension specialist with the University of Arkansas.
"We're seeing more and more producers purchasing drones with really no idea how to use them," says Robbins. "We're worried that the commercial market is growing faster than the research. One of our goals is to help growers manage or reduce their financial risk relating to this emerging technology."
During the four-hour morning session on January 5, attendees will learn about available aircraft, sensors, applications, image processing, and the risks and liabilities related to the technology. The presentation features a unique blend of participants, each with their own area of expertise with drones. In addition to Robbins, attendees will hear from Dr. Joe Mari Maja from Clemson, Rusty Lumley with the National Agricultural Law Center, and Dr. Mengmeng Gu with Texas AgriLife Extension.
"Our expertise with drones is primarily in specialty crops and horticulture, so it might be a little odd that we're at the Beltwide Cotton Conference," adds Robbins. "But we understand the entire general topic. Whether it's nurseries or cotton, aircraft or sensors are not going to change. The basics are still all the same."
Plus, lucky attendees may get a chance to show off their skills in flying and landing drones.
The BWCC, coordinated by the National Cotton Council (NCC), annually brings together university and USDA researchers, Extension personnel/agents, consultants, and affiliated industry members.
The 2018 BWCC begins at noon on January 3 with the half-day Cotton Consultants Conference, which is open to all attendees. Scheduled topics for the session include a look ahead to Bollgard III use, a review of the first year of in-crop dicamba use, thrips control, bacterial blight, nematodes, cotton root rot and fungicide seed treatments. A regulatory update and presentations on growing cotton economically and on contamination prevention are also scheduled.
The BWCC cotton technical conferences, which will provide updates on research and a look into the technology pipeline, will meet concurrently beginning on the morning of January 4 and conclude by noon on January 5.
A new type of presentation will be offered at one of the BWCC technical conferences. The Cotton Improvement Conference will feature five-minute lightning talks from poster presentation authors to help stimulate additional discussion during the poster session.
Information on the 2018 BWCC, including registration and housing reservation instructions, is online at Cotton.org/Beltwide. Discounted registration costs are available through December 15.