From Cotton Grower Magazine, January 2019
If you want to get Bowen Flowers' attention, just ask him about conservation. Chances are he'll have several topics he'd love to discuss – all of which come from first-hand involvement and experience.
Flowers, a partner in Omega Plantation in Clarksdale, MS, takes pride in the family farming operation, which includes 10,000 acres of cotton and another 5,000-6,000 acres of grain crops. But he also takes pride in giving time and attention back to the cotton industry and to his beloved Mississippi Delta.
"Somebody's got to do the job," he says.
That get-the-job-done attitude through decades of involvement and leadership for U.S. cotton – plus management of one of the top farming operations in the Mid-South – made Flowers a popular choice within the industry for the 2018 Cotton Grower Cotton Achievement Award, sponsored by NexGen brand cottonseed from Americot.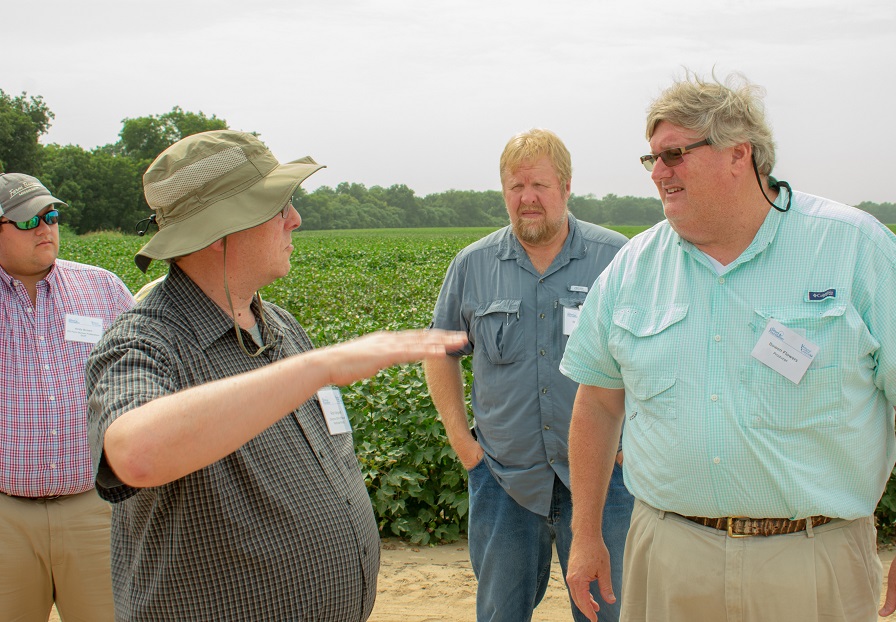 Bowen Flowers (right) routinely shares his farming experience with visiting groups.
Starting Early
A fourth generation Coahoma County farmer, Flowers comes by his industry involvement honestly. His father, Dick Flowers, was active with the National Cotton Council (NCC) and Delta Council, and set the standard for his son's involvement.
"I got involved with Delta Council at a relatively early age, shortly after finishing at Mississippi State University," recalls Flowers. "Through Delta Council, I got involved with the National Cotton Council and was on one of the first Producer Information Exchange tours to California. It was eye-opening for me. I brought some things home that those growers were doing and applied them to our farm."
That experience led to more involvement with the NCC, first as a producer delegate from Mississippi in the early 1990s, and more recently as an NCC director from 2006-2008 and from 2013-2015. He has served on various NCC committees and task forces, including the Farm Policy Task Force, the Environmental Task Force, the Cottonseed Program Task Force and the Crop Insurance Implementation Working Group.
He has also held leadership positions within the American Cotton Producers (ACP), which represents producer interests within the NCC. He was ACP chair in 2014 and 2015 and is currently a member of the ACP Farm Policy Task Force.
And there's more.
Flowers has been a member of the Staplcotn Board of Directors since the early 1990s. He served as Delta Council president, sits on the Coahoma County Farm Bureau board, is a Soil and Water Commissioner for Coahoma County, and remains active in local community activities.
That's a lot of irons in the fire for one person. But ask anyone who knows him, and you'll understand how Flowers makes it work.
"Bowen Flowers has left a positive footprint in all facets of his life," states Woods Eastland, current Delta Council president. "He is a man to whom others naturally gravitate for his opinion and input on varied issues affecting Delta agriculture. He has given selflessly of his time and resources, whether serving with Delta Council, Staplcotn, the National Cotton Council, or other agricultural organizations while fulfilling his family and civic responsibilities.
"Bowen has an uncommon amount of common sense, expressed directly in conversational tones without being argumentative or overbearing," he adds. "He is very effective. A lot is asked of him, and he responds with a generous giving of his time and talent. He also is a man whose values are in the right order. His family is first, and then the farming business that supports them.
"He is a person to be emulated."
A Heart for Conservation
"Through NCC and ACP, I've made many trips to Washington dealing with farm programs and other regulations," says Flowers. "We work well with different groups like EPA and on conservation issues with the Natural Resources Conservation Service (NRCS)."
Flowers used those experiences to help start Delta Wildlife, an organization dedicated to helping landowners in the Mississippi Delta protect their lands for wildlife and preserve the wildlife in the area. Flowers is a founding member and past president of the organization. The group works hand-in-hand with Delta F.A.R.M., an association of growers and landowners that strive to implement recognized agricultural practices which will conserve, restore and enhance land and water resource stewardship to ensure a more sustainable and profitable future for agriculture in Northwest Mississippi.
He's also respectful of the power of the Mississippi River. As Delta Council president in 2011, he learned "a lot" about the river, the levee system and the skills of the U.S. Army Corps of Engineers (COE).
"That was the year of the biggest flood in history on the Mississippi River," recalls Flowers. "It was eye-opening how well the COE can predict things. Their plan worked exactly like they drew it up."
And now, Flowers is focusing on ways to preserve the water in the alluvial aquafer for the Delta, working closely with the Mississippi Department of Environmental Quality, Soil and Water Commission, Farm Bureau, Delta Council, Delta F.A.R.M. and the YMD Water Management District.
"Right now, there are so many wells in the Delta that the aquafer is starting to go down," he explains. "We're trying to put the proper conservation practices in place, then stress to farmers how important it is to the area to make sure we preserve this aquafer for coming generations. We're fortunate that the alluvial does recharge, but we need to figure out how to achieve a balance with surface water and other sources so the aquafer is not being depleted.
"That's one of the most important things we're working on right now."
Conservation Carries Over to the Farm
Omega Plantation grew from a partnership between Dick Flowers and Dutch Parker, who farmed together for several years over three northwest Mississippi counties. Flowers joined the operation after college, and a few years later, he – along with his dad, brother and sister – took the Flowers part of the operation and moved to land they already had in Coahoma County.
It's a true family operation. Flowers and his brother Mattson handle day to day decisions, with both of their families and their parents also involved.
"My dad is still active in the farming operation. He said one of his jobs is to tell us what we're doing wrong," laughs Flowers. "We love having him involved to give us sound advice, too."
The farm employs about 30 people, including a long-time manager – Cotton Graham – who has been working with the family for nearly 50 years.
"Cotton was working for Flowers and Parker and moved to Clarksdale when we started farming," says Flowers. "He and I had the very best teacher about farming in Dutch Parker, and we have worked together my whole career."
Flowers' passion for conservation plays a big role in the Omega Plantation operation.
"I've been working on different conservation programs for the past 20-30 years," he explains. "For irrigation, we use the Pipe Planner program for polypipe to set computerized holes to make water come to the end of the fields at the same time, no matter what the different lengths of the runs are. That has helped us tremendously in terms of conserving water."
Soil water sensors have been added across the farm to help Flowers determine when and where water is needed. That's key knowledge to have when you're running 26 center pivots and about 80 miles of polypipe for furrow irrigation.
"When I started farming, we had zero irrigation," recalls Flowers. "We had a major drought in 1986. We had our first pivots that year and made a great cotton crop under them. We knew then that we needed irrigation. We add a little bit more every year, working to get to as close to 100% irrigated as we can."
The drive for efficiency also carries over to the farm's equipment. Variable rate planting is already in place for corn, and VR programs for cotton and soybeans are being written. The farm is involved with a flying service, and Flowers says they are also using VR for fertilizer. All of the farm's bigger row crop tractors are equipped with guidance systems – a technology that has made a positive difference in their operation, according to Flowers.
At harvest, five John Deere module pickers cover the farm's cotton acres as quickly and efficiently as possible. All of the farm's cotton is ginned at Mattson Gin in Mattson, MS – a family gin in which Flowers is a shareholder. His cousin and uncle operate the facility.
Flowers is also learning that conservation comes in multiple forms. These days, he and his wife, Susan, find themselves spending more and more time following the activities and athletics of their daughter, Anderson.
"I've had to slow down a few of the things that I did earlier in life," he admits.
Like most active industry leaders, Flowers credits much of his success to the people around him. "We have good managers on the farm that keep things rolling when I need to leave for meetings and other activities," he says. "They're a major reason why I can do what I do.
"I've also been fortunate to be involved with and learn from a lot of good people," he added, "people like Chip Morgan and Frank Howell at Delta Council, Mike McCormick at Mississippi Farm Bureau, Gary Adams and Craig Brown at the National Cotton Council, as well as the staffs of each of these organizations. These groups are so important to our industry because of the good working relationships they have with all aspects of the farming community.
"They make my work with them much easier and fulfilling, and I thank them for that."