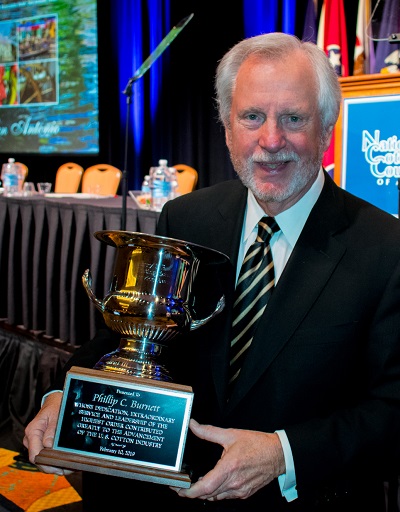 Phillip Burnett, a former chief staff executive for the National Cotton Council (NCC), received the organization's 2018 Harry S. Baker Distinguished Service Award.
Burnett was honored during the NCC's recent annual meeting in San Antonio.
The award, named for the late California industry leader and past NCC President Harry S. Baker, is presented annually to a deserving individual who has provided extraordinary service, leadership and dedication to the U.S. cotton industry.
In presenting the award, outgoing NCC Chairman Ron Craft noted that during Burnett's tenure, he maximized opportunities for the U.S. cotton industry among international customers, lawmakers, regulatory agencies and allied industry.
"Phil took great pride in seeing the Council utilize its greatest strength – unity among membership – which fostered the necessary consensus-building to ensure the cotton industry's interests were advanced in Congress and the Executive Branch," Craft said. "Among his many legacies was the attainment of the highest levels of membership for both the Council and The Cotton Foundation. He also instilled confidence and creativity with cotton industry leadership and staff."
A native of Hollandale, MS – where his family's farming operation included cotton, soybeans and grains – Burnett earned a business administration degree from the University of Mississippi in 1966 before joining the NCC as a field representative. In 1972, he was named the NCC's assistant Washington representative and worked with multiple regulatory agencies on issues ranging from plant protection product registrations to clean air/water rules to health/safety standards.
In 1977, Burnett returned to the Memphis office as assistant to the executive vice president – a position he held for four years before joining the Cotton Board, where he worked on the producer-funded research and promotion programs conducted by Cotton Incorporated.
In 1989, he returned to the NCC after being named to the dual role of executive vice president and chief executive officer. He simultaneously served as chief executive officer of Cotton Council International and executive vice president of The Cotton Foundation.
In early 2001, Burnett assumed the newly-changed title of president and chief executive officer. A few months later, he left the NCC when he was named president and chief executive officer of The Seam, a newly-created company that had begun operating as the world's first completely online, anonymous exchange for cotton trading. Now retired from the Seam, Burnett continues to serve on its board as an industry consultant.
Information provided by the National Cotton Council