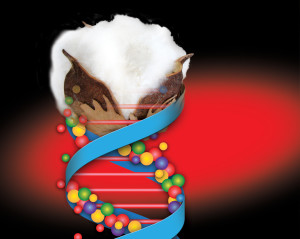 Although Monsanto's highly anticipated Bollgard II XtendFlex cotton trait hit a snag in May, seed company representatives are still abuzz about its eventual release. And Deltapine isn't the only brand touting the benefits of the technology.
As part of Monsanto's Roundup Ready Xtend Crop System, the Bollgard II XtendFlex cotton trait features dicamba-tolerant technology, opening up a new mode of action for farmers struggling with resistant weeds. But USDA announced in May 2013 that it would conduct an environmental impact study on both the Roundup Ready Xtend Crop System and Dow's 2,4-D-tolerant Enlist Weed Control System technology.
At the time, USDA released a statement saying the study is being conducted to "better inform decision making" regarding the two new weed management systems. Because there is no timetable set for completion of the study, representatives from Dow and Monsanto aren't sure if they will be able to proceed with their scheduled introductions of the technology into the cotton market. Initially, Bollgard II XtendFlex was set to be introduced in 2015, while the Enlist Weed Control System was slated to follow in 2016.
In the meantime, the companies aren't sitting on their hands. Both Dow and Monsanto have set out to educate growers about how to properly utilize their coming technologies. And other seed companies are preparing to capitalize on the technology as well.
"We could have a minimum of five varieties with Bollgard II XtendFlex technology when it becomes available, possibly as soon as 2015," says Terry Campbell, Americot general manager. "We've been in Monsanto's IT program for years. So next year will be fun, hosting several regional events looking at our new lines with this technology. Of course, it will be regulated status, but it will be fun."
Other Americot representatives share in Campbell's excitement. Americot Director of Technical Services Ken Legé, says the technology will be intergressed into some high-performing Americot varieties.
"You'll have three herbicide choices in some of our elite variety lines, so we're very excited about that," said Legé. "Four of those variety lines are very adapted to the High and Rolling Plains, and then there's another that will be adapted all the way to the Mid-South and Southeast."
Legé is quick to point out that the new Bollgard II XtendFlex technology also features Roundup tolerance and Liberty tolerance. The diverse offerings will help growers avoid further herbicide resistance problems, he says.
All-Tex is another seed company that is preparing to make the most of the coming dicamba-tolerant technology. According to Cody Poage, operations manager for All-Tex Seed and Dyna-Gro Seed, the company has been preparing for the new weed trait for years.
"We will have the dicamba-tolerant trait on the market hopefully in 2015. We have it in our varieties now. If it's available then to the market, then we'll have it in 2015," says Poage. "It's going to be interesting to see how quickly the dicamba-tolerant trait is adapted. I'm sure it will be adapted pretty quick, with all the weed resistance issues farmers are faced with today."