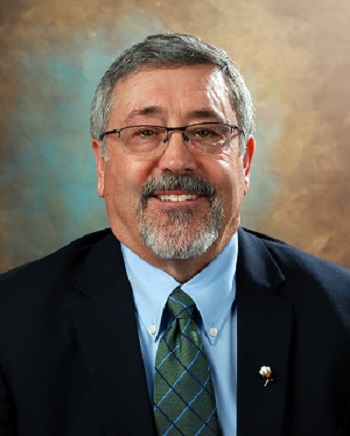 Ron Craft
Ron Craft, a cotton producer and fifth-generation ginner from Plains, TX, was elected National Cotton Council chairman for 2018 during the organization's 2018 annual meeting.
Craft succeeds Ronnie Lee, a cotton producer from Bronwood, GA.
Active in many state and national farm and gin organizations, Craft has held numerous other NCC leadership positions, including director and chairman of the Packaging and Distribution Committee, and member of the Executive Committee, Cotton Flow Committee and Quality Task Force.
Craft also was chairman of the National Cotton Ginners' Association in 2017, after serving as its president in 2016. He is a member and past president of the Plains Ginners, Texas Independent Ginners and Texas Cotton Ginners associations. He also is the secretary and treasurer of the Yoakum County Farm Bureau.
Craft is the owner of New-Tex Gin Company in Plains and a co-owner of Lov-Cot Warehouse in Lubbock. He is also a graduate of the Texas Law Enforcement Academy and a sergeant for the Yoakum County Sherriff's Department.
The NCC's vice chairman for 2018 is Mike Tate, a Huntsville, AL, cotton producer.
Re-elected as NCC vice presidents for 2018 are Kent Fountain, ginner, Surrency, GA; Robert Lacy, Jr, cottonseed processor, Lubbock, TX; Coalter Paxton, III, warehouseman, Wilson, NC; Kevin Brinkley, marketing cooperative executive, Lubbock, TX; Joe Nicosia, merchant, Cordova, TN; and David Hastings, textile manufacturer, Mauldin, SC.
Barry Evans, a producer from Kress, TX, was re-elected as secretary-treasurer.
Source – National Cotton Council