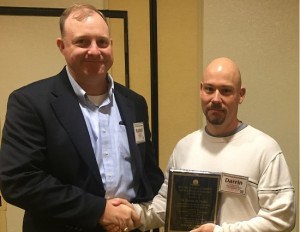 Dr. Darrin Dodds, associate Extension professor for Mississippi State University, is the 2016 recipient of the Dr. J. Tom Cothren Outstanding Young Cotton Physiologist award.
The announcement was made during the 2016 Beltwide Cotton Conferences in New Orleans.
PhytoGen has sponsored the award since its inception. Dodds will receive a $1,000 award from Dow AgroSciences.
Dodds was nominated by Dr. Angus Catchot, Extension entomologist for Mississippi State University; Dr. Randy Boman, research director and cotton Extension program leader for Oklahoma State University; and Dr. Chris Main, cotton development specialist for PhytoGen.
"If I had to describe Darrin in one word, it would be intense," says Main, who worked with Dodds while he was in a similar Extension role in Tennessee. Main wrote in Dodds' nomination letter: "He is intense in his attention to detail in research design, implementation, management, data analysis and writing, which sets him above most agronomists. Darrin is respected as an Extension cotton specialist because he has actually conducted the research results he presents. Darrin is well-deserving of this award."
Dodds has been an associate Extension professor and cotton specialist at Mississippi State University since 2007. During that time, he has brought in more than $1 million in funding for research at the school. He performs over 20 large cotton variety trials each year.
The award was initiated by the Beltwide Cotton Agronomy & Physiology Conference several years ago to provide recognition for cotton physiology researchers in the early part of their career, and is modeled after the Outstanding Cotton Physiologist Award given by the same conference for career-long accomplishments.
Nominations for the Young Physiologist Award must be submitted by a peer prior to the nominee turning 40 years old and during the first 10 years after the nominee receives his or her highest academic degree.
In 2015, the award was renamed for Dr. J. Tom Cothren in remembrance of his many scientific and academic contributions to the cotton physiology community. Cothren was recognized as the Outstanding Cotton Physiologist in 2000.
"PhytoGen and Dow AgroSciences are proud to support this recognition for cotton physiology researchers by sponsoring this award," says Derek Racca, brand manager for PhytoGen. "We sincerely appreciate the contributions by Dr. Dodds, and the other past winners, to this industry."
Source – PhytoGen