The FiberMax One Ton Club recently celebrated four-bale and higher yields with 188 cotton growers who qualified for the club with their 2017 harvest results.
For the last 13 years, FiberMax has been celebrating high-yielding cotton growers through the company's exclusive One Ton Club. Thirty new members joined the celebration this year, bringing total membership for the One Ton Club to 1,084 cotton growers.
The highest acreage winners for 2017 were Brian and Brady Nelson of Nazareth, TX, who averaged One Ton Club yields on 540 acres.
Several other One Ton Club qualifiers were recognized with special awards.
Highest Yield and Highest Gross Value. Max and Beth Koepnick of San Tan Valley, AZ, harvested an average yield of 2,910 lbs/A and earned $1,590.11 per acre on their qualifying acres.
Highest Loan Value. Larry Hancock of Ehrenburg, AZ, garnered $0.5544 on his qualifying cotton acres planted to FM 1830GLT.
Most Varieties Achieving One Ton Club Yields. Five growers qualified one-ton yields with six different varieties:

Steven and Richard Archer of Lamesa, TX, qualified with FM 1911GLT, FM 2484B2F and FM 2011GT.
Russ and Bo Eggemeyer of Midkiff, TX, qualified with FM 1830GLT, FM 2334GLT and FM 1944GLB2.
Kornelius Enns of Ackerly, TX, qualified with FM 2334GLT, FM 1911GLT and FM 1830GLT.
"Growers look for a variety that will produce quality lint and, ultimately, give them an edge in the marketplace," says Jason Wistehuff, U.S. product manager for FiberMax cotton. "FiberMax varieties exceed those expectations. When growers pair their advanced knowledge with the elite science of FiberMax varieties, the results are remarkable."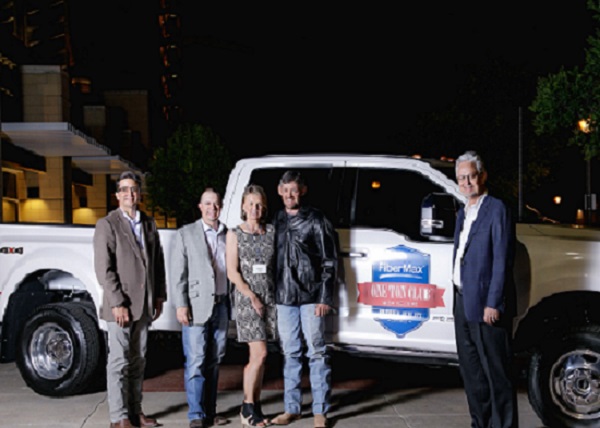 FiberMax One Ton Club truck winners Pete and Martha Frieson (center) are congratulated by Craig Bednarz and Marte Pierce (left) of Bayer, and by Monty Christian (right), Bayer vice president for U.S. cotton operations.
Seminole, TX, Grower Wins One Ton Truck Prize
Each year, One Ton Club members are entered into a drawing for a two-year lease on a Ford Super Duty F-350 King Ranch truck. This year's winner is Pete and Martha Frieson of Seminole, TX. Frieson qualified for the One Ton Club with FM 1830GLT.
Additonal information on the FiberMax One Ton Club is available online.
Source – Bayer