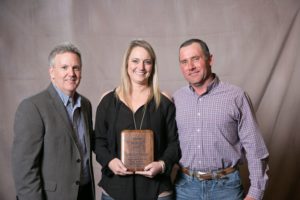 Johnny and Kayla Lindley with Allen Gent (left), Bayer strategic business lead
Johnny Lindley, of Lakeview, TX, produced the highest yield – 3,059 lb/A – among the 389 growers who qualified in 2016 for the FiberMax One Ton Club.
The FiberMax One Ton Club recently celebrated the growers who qualified four-bale and higher yields with FiberMax varieties in 2016. Now in its twelfth year, 1,048 high-yielding growers are members of the club. Of the 389 members who qualified for the 2016 crop, six have qualified for 10 years or more and 9% have qualified for five years or more.
Lindley qualified with yields more than four times the Texas state average in 2016 (720 lb/A) and more than double the national cotton yield average in 2016 (855 lb/A), according to the U.S. Department of Agriculture. Every One Ton Club member, including 199 growers who qualified for the first time, recorded yield averages that were more than 2½ times higher than the Texas state average.
The highest acreage winner – Craig McCloy of Morse, TX – averaged more than 2,000 lb/A on 2,046 acres.
And, each year, a One Ton Club grower is selected in a random drawing as winner of a FiberMax One Ton Club truck. The 2016 winners are Wesley and Tracy Campbell of Floydada, TX.
"This club is solid evidence of the success growers enjoy when they combine their knowledge and skills with our science – cottonseed varieties and inputs focused on increasing a grower's opportunity for profit," says Jason Wistehuff, U.S. product manager for FiberMax cotton. "The consistent yields of FiberMax are demonstrated with the growers who come back year after year."
Consistent performance across the FiberMax brand is proven by the range of varieties with which growers qualified for the One Ton Club since its inception.
"Growers have qualified for the FiberMax One Ton Club with 37 different varieties," Wistehuff says. "Each time we add varieties to the FiberMax lineup, we add growers who made high yields in fields planted to those varieties."
Source – Bayer