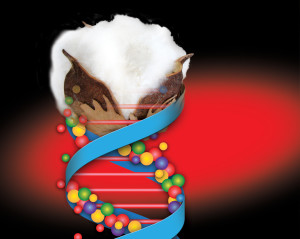 By Jim Steadman
jsteadman@meistermedia.com
Given the number of new and improved cotton varieties that have been introduced over the past decade, it's hard to believe that the cotton market hasn't seen a new trait technology in two years. 
If you're keeping track, that "newest" innovation was GlyTol, ending a 16-year period – beginning with BXN cotton in 1995 – that changed the way cotton was grown and managed with regards to weed and insect control.
From Bollgard (1996) to Roundup Ready (1997) to Bollgard II (2003) to LibertyLink (2004) to Widestrike (2005) to Roundup Ready Flex (2006), these innovations – alone or in various combinations and combined with ever-improving varieties – have helped growers achieve an unprecedented leap forward in production and stewardship. All in all, it's been a historic time to be in the cotton business.
Another generation of new and/or improved trait technologies is currently in the research pipeline, as are exciting breakthroughs in breeding programs. Some may see the market as early as next year. Others may be a few years down the line. Here are four that will revolutionize the way you grow cotton in the coming seasons.
Weed Management
• Bollgard II XtendFlex from Monsanto is part of the Roundup Ready Xtend Crop System and is on track for market introduction in 2015. The trait will be the industry's first triple stack herbicide-tolerance gene, providing protection from applications of glyphosate, dicamba and glufosinate (Liberty), with the proven insect protection provided by Genuity Bollgard II.
"If you think about controlling pigweed, you'll have three really unique modes of action that provide growers additional choice and flexibility in a pre or post herbicide application," stated Jordan Iverson, cotton traits marketing manager for Monsanto. "If a grower has glyphosate-resistant weeds, he'll be able to switch to dicamba or glufosinate to better control those weeds. Since glyphosate still controls more than 300 weeds, many farmers will continue to use it as the foundation for their weed management system, especially in areas where glyphosate resistance has yet to appear."
In conjunction with the trait introduction, Monsanto will also be bringing two new herbicide products to market to work with the new technology. The first, branded as Roundup Xtend, will be an enhanced dicamba and glyphosate premix providing ease of use for growers who may need multiple modes of action. The other – XtendiMax – will be a stand-alone, low volatility dicamba formulation.
Final regulatory approval is still pending for the Bollgard II XtendFlex trait and the two herbicide formulations. The trait will launch in Deltapine cotton varieties, plus varieties from other licensees of the technology.
For growers who want to see the technologies in action, Monsanto is planning demonstration sites in Scott, MS, Marion, AR, Micro, NC and Moultrie, GA to showcase Bollgard II XtendFlex cotton – as well as Roundup Ready 2Xtend soybeans – this year.
"These sites will demonstrate the traits in both cotton and soybeans, as well as the new formulations and the application requirements that will be on the label for these products," explained Iverson.
• Enlist Weed Control System from Dow AgroSciences is the second new weed technology on the horizon. The system is built on a 2,4-D-based technology and is expected to be introduced in limited quantities in cotton by 2016, following scheduled introductions in corn (2014) and soybeans (2015), pending regulatory approvals.
The Enlist system involves a trait and a corresponding herbicide partner. The new Enlist Duo herbicide with Colex-D technology is a proprietary blend of new 2,4-D choline and glyphosate. It will provide near-zero volatility, minimized potential for physical drift and enhanced efficacy. In addition to 2,4-D choline and glyphosate, Enlist cotton will also confer tolerance to glufosinate.
"This product and technology will allow growers to deal with some of the resistant weeds they're currently fighting like pigweed, as well as other species that may not be resistant but just hard to control," said Duane Canfield, portfolio marketing leader for PhytoGen and Widestrike.
With a phased crop-by-crop introduction set for the Enlist system, continued market education also is a key strategy for Dow. Five technology centers dedicated to Enlist will be established in the Midwest and South to provide interactive, field-based training for growers, retailers and consultants to familiarize them with the product performance, application and best management practices for the Enlist system.
In addition, five regional field specialists with backgrounds in weed management, application technology and crop research have been added to the company's technical resources staff to provide field support and technical knowledge for the Enlist system. Two of those specialists will provide support in Cotton Belt states – Jonathan Siebert for the Mid-South and Texas, and Ralph Lassiter for the Southeast.
Upon final regulatory approval and market introduction, the Enlist system will come to the cotton market in selected PhytoGen varieties, as well as in varieties from other technology licensees.
Both Enlist and Bollgard II XtendFlex are being reviewed by USDA, which is currently preparing impact statements for them.
Insect Control
• TwinLink from Bayer CropScience is currently on track for a 2014 launch. The new two-gene trait – a stack of the Cry1Ab and Cry2Ae Bt proteins – will be available in FiberMax and Stoneville varieties, paired with Bayer's GlyTol and LibertyLink herbicide technologies.
The two herbicide traits allow growers to apply both Liberty and glyphosate in their weed management program.
"The product would be GlyTol LibertyLink TwinLink," stated Paul Callaghan, global cotton traits manager for Bayer CropScience. "All in all, it's a product that will meet several needs, and TwinLink is an important component of that stack. It will provide broad spectrum lepidopteran insect control for growers, meaning superior bollworm protection, as well as good fall armyworm control and excellent control of loopers and beet armyworms. Plus, it provides two herbicide modes of action to manage tough-to-control and glyphosate-resistant weeds that growers face in their fields today.
"We feel very confident that the technology will bring great successes for cotton farmers from an insect and weed control standpoint," said Callaghan.
TwinLink has been extensively tested in university and USDA field trials – as well as in Bayer's modified Cotton Agronomic Performance (CAP) trials – for several years while awaiting final regulatory clearances.
"People have been excited about what they've seen. Research demonstrates that it is as good as the current industry standards, so growers can have confidence in the performance of the technology."
During 2013, the GlyTol LibertyLink TwinLink technologies will be showcased in roughly 100 modified CAP trial locations throughout the Cotton Belt, as part of Bayer's evaluation of potential FiberMax and Stoneville varieties that it could bring to market next year.
• The third generation of Widestrike from Dow AgroSciences is another new insect trait that growers may see on the market soon.
"This third generation product will have three genes – our two current Bt genes plus Vip3A, a vegetative insecticidal protein," explained Dow AgroScience's Canfield. "It's going to provide excellent bollworm control, better than what's currently on the market today. It's going to be a very broad spectrum product, and it will bring an enhanced level of gene durability or resistance management to the marketplace."
The product is currently in the regulatory process. Pending those approvals, a very limited introduction of the new Widestrike could occur in 2014, with larger-scale rollouts in 2015 and 2016.
• Monsanto is finalizing development of Bollgard III, which will also add an additional protein for extra protection against a broader spectrum of lepedopteran insects.
"In addition to the broader spectrum of insects controlled, the biggest advantage of Bollgard III is simply helping reduce the risk of resistance or tolerance building within the insect population," continued Monsanto's Iverson. "We're really focused on lowering the incidence that resistance could occur by having that third mode of action for insect control."
According to Iverson, market introduction of Bollgard III is probably three-to-four years away – no sooner than 2017.
Iverson also reported that in-plant lygus control is also in early stages of development in Monsanto's insect pipeline. "It's a true biotech event for lygus control that will be efficacious throughout the whole plant, much like our current Bollgard technologies," he explained.
No timeline has been set for the product.