Although his presence had been announced in advance, attendees at the Mid-South Farm and Gin Show were still a little curious about why USDA Agriculture Secretary Sonny Perdue was scheduled to speak to them. It was early March in Memphis, and he was a long way from Washington D.C., when Perdue took the podium in front of hundreds of Mid-South cotton producers.
"In order to get the elephant in the room off the podium here," Perdue said, "we are announcing today a Cotton Ginning Cost Share program for the 2016 crop." Predictably, that drew a loud round of applause at the event, which is hosted each year by the Southern Cotton Ginners Association.
Perdue and USDA have been clear in their reasoning for renewing the program. In plain language, they've acknowledged that American cotton producers have endured years of financial strain – a struggle that was exacerbated by a weaker safety net following the passage of the 2014 Farm Bill.
"In particular, cotton producers confront high input and infrastructure costs, which leaves them more financially leveraged than most of their colleagues," read a release from the Farm Service Agency announcing the passage of the program. If that language sounds especially familiar – and true – it's likely because of the influence that cotton's advocates have had in shaping this legislation.
Perdue, in his announcement in Memphis, readily acknowledged all the input he had received from fellow Georgian and then-NCC President Ronnie Lee. "Actually I'm here so I can take Ronnie Lee off of speed dial," Perdue joked during his speech. "Ever since I was announced, last December, as a potential candidate (for Agriculture Secretary), Ronnie Lee started dialing me about three times a day about cotton ginning cost share. I've already seen some friends here from Georgia, and they remind me about that all the time."
But at a time when everything on Capitol Hill is contentious, the successful passage of the Ginning Cost Share program was no easy task. Many believed the issue was dead and buried, having failed to be renewed after its initial passage in 2016. And direct calls from Lee to Perdue were only a small part of the coordinated effort from the cotton industry.
In his speech, Perdue was quick to acknowledge the Congressmen who played major roles in pushing the legislation through. He singled out Representative Mike Conaway (R-TX) as a driving force in pushing the legislation along. He also gave effusive credit to the National Cotton Council.
"Obviously the Cotton Council was paramount, not just with me, but obviously working with all the decision makers on the Hill," Perdue said. "Fortunately, Chairman Conaway comes from a cotton district, so he understood the issue. He heard from his growers.
"But there was a unified effort, and I think you saw that from the vast array of Congressional colleagues that signed onto the effort of fixing the cotton deal. Everyone became quite aware that (cotton) was not included in the 2014 Farm Bill – that eliminated the safety net that was there… and cotton was out there without any kind of safety net aside from crop insurance."
Again, here, Perdue's thoughts sound very much in keeping with the message that the National Cotton Council has tried to inject among agriculture legislators in Washington D.C. And Perdue hinted that he had heard from other voices from within the cotton industry, as well.
"You all had a very strong vocalization effort, certainly within Congress," he said. "Many of them had heard from you all, and our colleagues bound together, all of your agencies. The cotton industry kept talking about the need here, because in the safety net that the Farm Bill ought to be, there wasn't that safety net for cotton."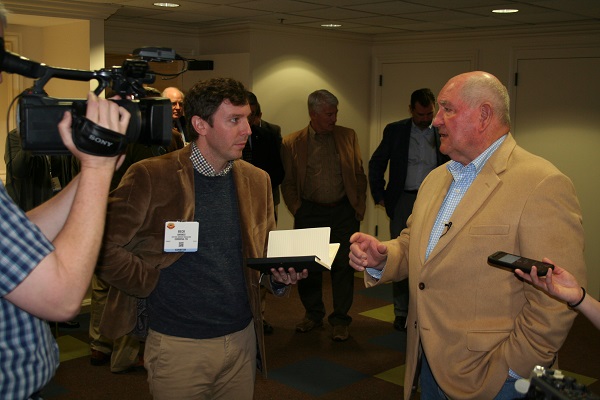 Cotton Grower's Beck Barnes (left) quizzes U.S. Secretary of Agriculture Sonny Perdue (right) about details of the renewed Cotton Ginning Cost Share Program.
According to Perdue, the process of finalizing the program took longer than he expected – and even longer to officially announce. The money for the Cotton Ginning Cost Share program was identified and set aside for this purpose in December, he said, but got sidetracked by the disaster assistance bill that was announced around that time.
Ultimately, the bill was announced and implemented in time for growers to utilize the extra funding for the 2018 planting season.
"We should be able to do that pretty quickly," Perdue said in early March, "Hopefully we can get a little money in your pocket to buy those seeds and other inputs that you need for this crop coming up."
The program has been and will continue to be administered by the Farm Service Agency. Producers are eligible to receive the one-time payment based on their respective 2016 reported acres, multiplied by 20 percent of the average ginning cost for each production region. Growers are able to sign up for the assistance program through May 11, 2018.
The FSA has encouraged interested producers to contact their local USDA service center. They can do so by visiting the Farmers.gov website. According to Perdue, the agency is prepared to handle all applicants.
"Our people tell us that they'll be ready for that," Perdue said. "Applications are pretty much pre-populating, based on your reported planted acres."
Ultimately, the announcement of the program was the latest in a string of victories for the U.S. cotton industry. The Cotton Ginning Cost Share program came on the heels of the announcement in February that cotton would once again come under Title I protection under the Farm Bill. The news out of Washington D.C. has American cotton growers feeling encouraged, despite price uncertainty, as they head into the spring planting season.
From Cotton Grower Magazine, April 2018