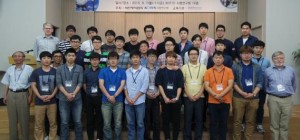 ICA Bremen – in conjunction with the Spinners & Weavers Association of Korea (SWAK) – conducted a Cotton Classing training course for 30 participants at the KOTITI location in South Korea in September.
Developed in response to industry demand, the five-day course focused on the classing of U.S. cotton was delivered by Karsten Froese and Wilfried Neumann of ICA Bremen.
"By concentrating on the visual classing of U.S. cotton, the participants learned how to get a quick impression of different aspects of the quality of raw cotton, which is a useful tool for their daily work in the spinning mills," said Froese. "This was a highly motivated group, which now has a good basic knowledge and understanding of classing.
"I would like to thank the SWAK and KOTITI staff for their excellent support, which contributed greatly to the success of this course."
The training was based on approved standard procedures for visual grading and staple pulling. Theory was also covered, as were the agreed standards and regulations for quality evaluation according to the rules of the International Cotton Association.
Operating from state-of-the-art laboratory facilities in Bremen, Germany, ICA Bremen is the international center for excellence in cotton testing, research and quality training.
Source – ICA Bremen