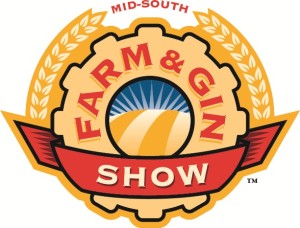 Some pundits have said that agriculture is steering into 2016 with more uncertainty than it has seen in several years. Commodity prices are down, interest rates are slowly trending higher, and weather issues continue to impact planting decisions and options.
Tim Price, show manager of the Mid-South Farm and Gin, recognizes that growers have questions. And he's confident they'll find answers during the 64th edition of the show, scheduled for February 26-27 at the Cook Convention Center in Memphis. Advance show registration – as well as a show app available for downloading – can be found online.
"What we try to do at the show is remind people that we've been through cycles before," says Price. "We want to help folks deal with changing circumstances by providing the market updates they're looking for, along with the products and services that can help them increase yields and quality, or just simply get more things done."
The Farm and Gin Show continues to reflect the agricultural diversity of the Mid-South. But, as Price notes, there's still an amazing set of cotton-specific items for visitors to see, ranging from seed technologies to cotton handling, ginning and packaging.
The two-day event kicks off with the popular Friday morning update seminar on February 26, featuring market and industry updates from Carl Weathers of Riceland Foods, Joe Nicosia of Louis Dreyfus Commodities, and Shane Stephens, newly-elected chairman of the National Cotton Council. On Saturday morning, February 27, Richard Brock, president of Brock Associates, returns for his popular session on grain and commodity marketing and politics.
Other afternoon sessions on rice marketing, maximizing corn yields, and using technology to combine stewardship with profitability are also scheduled.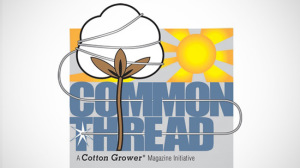 Cotton Grower magazine will again host its Common Thread luncheon – a discussion of hot topic industry issues sponsored by Deltapine – for cotton growers, beginning at noon on February 26 in the Cotton Row Room on the Mezzanine level of the convention center. Participating speakers are:
Dr. Tim Sharp, who will provide insight on how precision ag practices can help growers maximize cotton production while controlling input costs;
Dr. Larry Steckel, University of Tennessee weed specialist, who will discuss how to overcome pesky weed management issues despite the prominence of herbicide resistance;
Dr. O. A. Cleveland, Mississippi State University cotton analyst, who will advise growers on their best course of action in a challenging world cotton environment.
Space for the Common Thread luncheon is limited, and advance registration is required.
The Mid-South Farm and Gin Show opens at 9:00 am each day.