From Cotton Grower Magazine – December 2015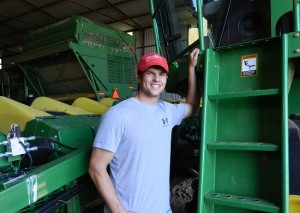 At 27 years old, Brian Hobratschk has a lot in common with the newest generation of cotton producers in the U.S. Although he works and lives in tiny Littlefield, TX, he shares a similar experience and a similar outlook with young farmers in every corner of the Cotton Belt.
Like most all of them, he is following in his father's footsteps on the farm – navigating the ambiguous territory of farming on his own terms and getting guidance from his dad, Larry, from time to time. Like many of them, he's had to convince his new spouse to settle down in the country – they made their home in the tiny community of 6,000 near his farm. And like all young cotton producers who have just gotten started in the last five years, he's had a trial by fire introduction to farming for a living – with challenges ranging from floundering cotton prices to bone-dry droughts.
"It had me thinking 'What the heck am I doing coming back to the farm?'" Hobratschk says, jokingly, of the 2011 season – his first year to farm full-time.
He had graduated from Texas Tech University the year before, when he farmed a single field with his father. Prices were higher in 2010, and the farm saw ample rainfall. By all accounts he produced a bumper crop. But when he returned home to farm full-time the next season, it seemed that everything that could go wrong, did. Because of the lingering drought, he and his father didn't harvest a single acre in 2011. It was a frustrating time, but it reaffirmed Hobratschk's decision to return to the farm.
"That year showed that you really have to love what you do in order to keep going on out here," Hobratschk says. "So I've seen that severe of a drought once in my lifetime. Hopefully that'll be the last time I deal with that."
A Rollercoaster Ride
The production seasons have improved, incrementally, since that difficult first year. The drought lingered on through 2012 and 2013, though he was able to get enough moisture to produce a crop. Hobratschk says he's roughly 40% irrigated on his 1,800 acres of cotton – although most of those irrigated acres offer only moderate irrigation support throughout the season. He says he is considering only watering half-circles in 2016 to compensate for his low-irrigation capabilities.
"I'm just thankful for what we've got," Hobratschk says. "I don't know if, when I'm my dad's age, if we're going to have all these pivots out here. That's why we've got to preserve what we've got and not keep them running all summer."
Of course, the 2015 season provided a totally different challenge – persistent rains throughout planting season threw everything off-kilter. It rained for so long that Hobratschk says he wondered if he'd even get to plant a crop on some fields. "It just would not stop," he says. "It was a flood around here."
Planting drug on into June, well past the insurance cut-off dates. On fields where planting was significantly delayed, Hobratschk had to consider switching to an earlier-maturing variety. He settled on FiberMax FM 1320GL on his later-planted acreage. It's the fastest maturing variety in the FiberMax portfolio, and Hobratschk had been impressed with it before.
"It yielded great for me before," he says. "I'd had a good experience with it, and if I had to next year, I wouldn't be afraid to plant that stuff in June. It's a good second option for us when we get in that situation."
The heavy rains in spring and the early summer helped spur some intense weed pressure on the High Plains, but Hobratschk says the herbicide options available in the GlyTol LibertyLink technology package of FM 1320GL proved invaluable.
"As wet as it was in May, we knew it was going to be bad," Hobratschk says. "The time frame that we had to plant, it didn't really give us enough time to put any whites down – no Direx or stuff like that. Some fields that I knew would have heavy pressure, you just have to make time to get Direx on those fields.
"Luckily for us, we were able to stay more on top of our weeds this year, because we didn't have to replant anything," he says. "So we were able to be timely on our sprays of things like Direx, Gramoxone, Roundup and Liberty, and it's all about timeliness."
Hobratschk also planted several fields in FiberMax FM 9250GL, which offers the same trait technology, and similarly high yields and good fiber quality. He says he makes the most of his Liberty sprays with timely applications. Still, he says, Palmer amaranth pressure was so intense in 2015 that he was forced to hand-hoe about two-thirds of his acreage.
"If it wasn't for Liberty, we wouldn't have been able to harvest in some fields," Hobratschk says. "It's getting hard, and with cotton at 60 cents, it makes those decisions that much harder."
Despite the economic challenges, Hobratschk keeps a positive outlook on his future as a cotton producer – another thing he shares with young cotton farmers across the United States.
"I'm not going anywhere," he says. "These conditions might weed out the ones who don't love it as much. When there's 60 cent cotton, you have to really love it to stay in it. I enjoy what I do every day. That's what keeps it fun. Even when you're out there in April, and the sand is blowing 50 miles an hour."