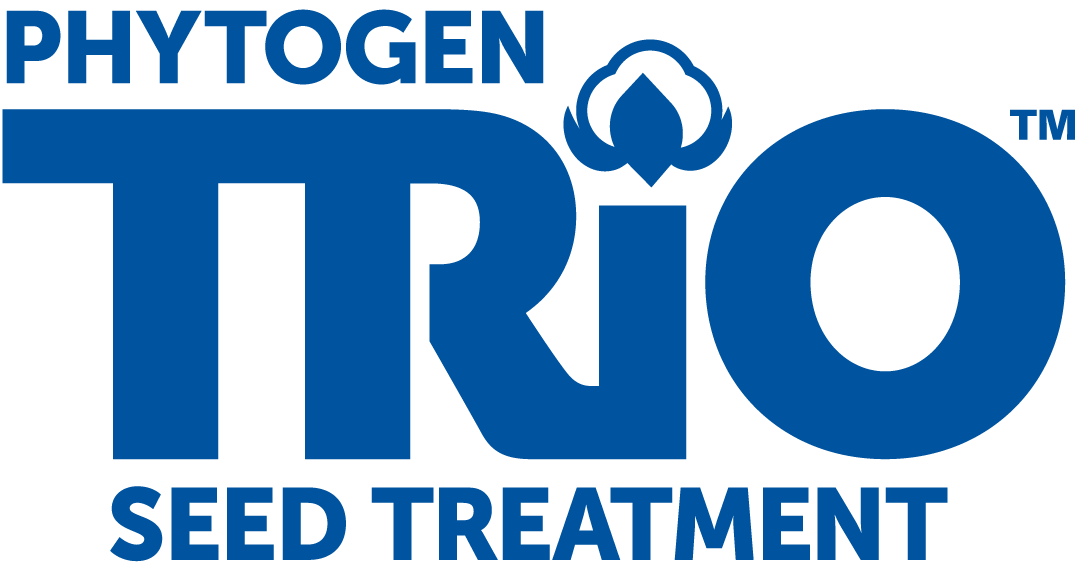 Producers can maximize their cottonseed potential for 2018 with new PhytoGen TRiO seed treatment, the latest innovation from PhytoGen.
Featuring industry-leading active ingredients, PhytoGen TRiO protects against early season diseases, insects and nematodes, helping cotton to thrive all season long.
"PhytoGen TRiO seed treatment enables us to deliver the best and most advanced seed-applied technologies for our PhytoGen customers," says Hank King, U.S. leader for PhytoGen. "This unique collection of chemistries will enhance our strong genetic and trait offerings, helping to protect our customers' cottonseed investment."
Available on PhytoGen brand varieties, PhytoGen TRiO seed treatment helps cotton thrive. It features:
Fungicides – Superior fungicide protection against Pythium, fusarium, black root rot and rhizoctonia
Insecticides – Broad-spectrum insect control of thrips and aphids
Nematicide – Multiple modes of action against root-knot nematode and reniform nematode
PhytoGen TRiO also contains a biological protein that helps cotton establish a stronger root system for improved plant health, which protects the plant and increases biomass.
PhytoGen TRiO seed treatment is also the new platform the company will use to deliver the most effective combination of seed treatments. It will be applied during the manufacturing process and will meet rigorous quality control standards.
"By streamlining our seed-applied offering, we're able to ensure it meets our high standards for PhytoGen cottonseed," King says. "We will also service and support TRiO just like anything else in our portfolio."
Each PhytoGen brand variety is selected to deliver outstanding yield potential and excellent fiber quality. In addition to breeding for high yield and quality, PhytoGen offers other industry-leading breeding advancements that deliver in-plant protection against bacterial blight, Verticillium wilt and root-knot nematodes in many of their current varieties – and will soon add protection from reniform nematodes to their list of breeding trait innovations.
"TRiO complements our PhytoGen Breeding Traits platform and has the ability to provide the enhanced early season protection growers need to safeguard their seed investment," notes King. "This combined protection is truly phenomenal and unique in our industry."
Source – PhytoGen