From Cotton Grower 2017-18 Product Showcase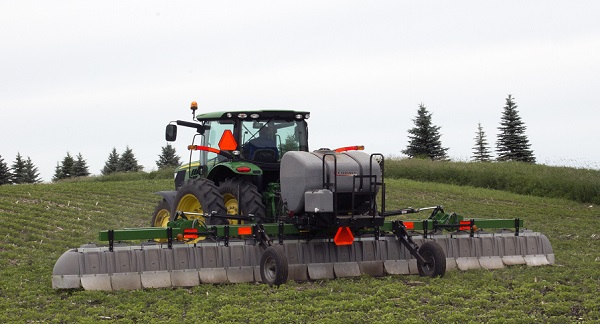 The original Redball Gen II Broadcast Spray-Hood is one of the most effective tools to help manage spray drift, and is ideal for spraying along field buffers and other sensitive areas. The spray hood encloses the spray boom, helping to block the spray pattern from the wind. By enclosing the boom, the hood not only helps to reduce herbicide drift, but also improves overall coverage.
Results from 2015-16 drift studies, conducted by Mississippi State University and the University of Nebraska, also demonstrate significantly less particle drift from all tested nozzles when used with the Redball Broadcast Hooded Sprayer, compared to using them with an open boom.
Redball Gen II Broadcast Hoods are available on multiple sprayer models ranging in size from 10′ to 100′. The 642E Three-Point Broadcast Hooded Sprayer with Over-Center Fold is a popular pick among growers and is available in 30′-60′ sizes. The easy-to-adjust gauge wheels help provide constant boom height for proper herbicide placement. The sprayer also has the ability to place wings in float cylinders, which allow the wings to follow field contours.
The SPK645 Self-Propelled Broadcast Hooded Retrofit Kit is also a top pick among growers and ag retailers. It's available in 60′ kits and larger, and is engineered to fit specific self-propelled sprayer models. The kit includes receiver brackets and hardware to mount the hoods on the center section and on the right and left primary booms. After the initial installation, hood assemblies can be put on or removed in approximately 10 minutes. SPK645 kits are available for most self-propelled makes and models.
For more information, photos and videos on the Redball Gen II Broadcast Hoods and Sprayers, as well as the complete 2015-16 drift study and current programs, log onto Willmarfab.com.
Willmar Fabrication, LLC
2205 Hall Ave.
Benson, MN 56215
Phone: 877-332-2551 (toll free) or 320-843-1700
Fax: 320-843-1703
Web: www.willmarfab.com