From Cotton Grower Magazine – February 2017
Cotton Grower magazine and ICE Futures are pleased to recognize Ronnie Whitmire of Whitmire Farms in Taft, TX, as the 2016 Marketer of the Year.
"For 26 years, this award has been given to U.S. cotton growers who demonstrate excellence in a marketing program," explained Dr. O. A. Cleveland, professor emeritus of agricultural economics at Mississippi State University, who makes the annual presentation.
 The award is presented each year during the National Cotton Council's Beltwide Cotton Conferences, held this year in Dallas.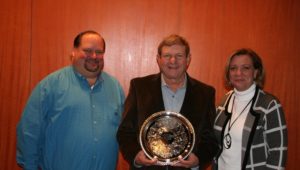 Ronnie Whitmire (center) celebrates his Marketer of the Year honor with his wife, Joni, and Jeremy Speis of Calcot.
Sometimes, people just have a knack for things. Maybe it's based on a keen sense of intuition. Maybe it's nothing more than ideas, routines and advice absorbed during years and years of paying attention to what other say and do.
Ronnie Whitmire might claim it's a bit of both. In his 41 years of farming near Taft, TX, he's become wise to the needs and potential of his farmland. He's also become adept at recognizing market trends and making the most of the opportunities presented.
That "gut feeling," as he calls it, helped earn Whitmire the 2016 Marketer of the Year award, presented by ICE Futures during the Beltwide Cotton Conferences in Dallas in early January.
Whitmire is a sixth generation farmer who learned Texas cotton production on a day-to-day basis from his father, Arthur Whitmire. They became farming partners in 1975, and worked together until his father's retirement in the mid-1990s.
Today, Ronnie and his wife, Joni, manage Whitmire Farms, which covers 2,500 acres of cotton and sorghum. The cotton side of the business gets 60-70% of those acres each year. It's dryland production ("Some years dryer than others," quips Joni), but Ronnie's experience and Mother Nature's rain helped produce the best cotton the farm has ever seen in the past two years.
"We averaged 1¾ to 2½ bales an acre in 2015 and 2016," says Ronnie.
But it's knowing what to do with that cotton that earned him the marketing honor. He works closely with Calcot, using their program options to help him diversify his marketing efforts and manage his risks.
"This year, Ronnie did half of his cotton in spot fixation contracts and the other half in our seasonal pool," explains Jeremy Speis, Calcot regional manager for Texas. "With the spot fixation, he fixed his futures price and basis and was able to get the high when the market went on a run. And with the seasonal pool, he could play with the spot and wait for the highest price."
"It was lucky," says Ronnie. Joni knows it's more than that.
"In 40-plus years of being in this business, he is remarkable at knowing when to sell," she states. "He has very good instincts."
"I sure don't hit 100% on my decisions," adds Ronnie. "But I feel like on a 10-year average, I'll probably hit the high on seven of them."
If it sounds like marketing is as much an art as a science for Ronnie, you won't get any arguments from him or from Joni. In many ways, Ronnie is an old-school farmer who still relies on the advice and "signs" passed on to him from his father and past generations.
"Daddy used to farm a lot by the old signs," recalls Ronnie. "His generation knew that when little birds flew low across the fields or when the moon dipped a certain way, it was going to rain. And it usually did."
"When you grow up hearing that and can still rely on some of those things today, I guess they're just bred into you," says Joni. "Using all of that information just becomes instinct.
Because you," she adds, looking at Ronnie, "are definitely good at knowing when to sell."
The Whitmires have been working with Calcot since 2008. Before then, they sold their cotton through a long-time buyer in Corpus Christi – a relationship that began with his father and ended when the buyer retired. Change, for Ronnie, was not a simple decision.
"When I found out that the King Ranch and other local growers were using Calcot, I felt more comfortable looking into them" he recalls. "I starting doing a little bit of selling with them at first, but we've been working together 100% for the last 4 to 5 years."
And what about his plans for 2017? Ronnie is already working those out in his head.
"Hopefully, we'll get another miracle," he says, laughing. "Prices look much better, and if the weather will let us, we can make a wonderful crop again yield-wise. I don't have resistant weed issues – yet – and we're 99% boll weevil free in our area. That helps us on costs. The new seed varieties help, too. But not having boll weevil is probably worth ¼ bale to us."
Ronnie also admits to being cautious about some of the newer technologies and traits available. For him, again, change comes slowly.
"I'm not one that jumps right in on technologies," he says. "My cotton is now 100% Roundup Ready and Bollgard, but I am going to try some of the new varieties with the dicamba tolerance this year. I might not need to spray dicamba on it. But if I have to, I have the option. I want to watch it grow and make my own decision about it."
Not surprisingly, Ronnie also finds time to give back to farming in his area. He currently serves on the board of directors for Midway Gin & Grain CO-OP and was the 2009 Region III Resident Conservation Farmer of Texas. But it's preparing for the seventh generation of Whitmires that also keeps Ronnie and Joni focused on the family farming tradition.
Their daughter, Meagan, and son, Tanner, grew up working on the farm and still help out when possible. Grandsons Tripp (5), Braddox and Jack (both 2) already show signs of farming in their blood.
"When I pick Tripp up from school, he usually asks 'Will you take me to the farm?'," says Joni.
And as for marketing advice to others, Ronnie's suggestions may seem pretty basic.
"When you see a healthy profit, take it instead of chasing that rainbow," he says. "Those are hard to catch. Don't get greedy. You can make a profit, even if you don't hit the high. And stay away from the lows."
Sounds just like experience – and good instincts – talking.