Signode is introducing GinFast, a new bale packaging system which protects and contains cotton bales in a single consumable bag without wire or strapping.
GinFast is designed to increase productivity, while improving operator safety in the gin and textile mills. GinFast bagged bales are currently being evaluated by the National Cotton Council's Joint Cotton Industry Bale Packaging Committee.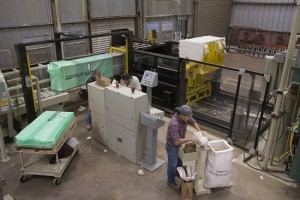 GinFast bags are woven with 860 highly oriented PET tapes, providing better protection with more consistency and uniformity for improved handling, stacking stability and warehouse space utilization. With the GinFast system, bales are in and out of the press in under five seconds, versus an average cycle time of 8-12 seconds with strapped bales. Depending on the capabilities of upstream equipment at the gin, production rates of up to 90 bales per hour are possible.
Built-in features like automatic sampling and semiautomatic bag assist help increase productivity and reduce labor, enabling one operator to manage the bagging process from a single location.
At the mill level, GinFast bagged bales help reduce the potential for injuries associated with the cutting and removal of wire and plastic strapping, and simplify disposal by eliminating multiple consumable bags and strapping. Signode will recycle the GinFast bags from textile mills for processing into other Signode packaging products.
Signode built GinFast to be similar to existing gin equipment for ease of integration, operator training and routine maintenance. Its durable, heavy-duty construction is suited to withstand the harsh gin environments, allowing reliable performance with minimal service requirements.
The company also offers several pre-engineered options, including automatic bag closure and sealing, bale rotators, conveyors and Downenders.
Source – Signode Packaging Systems