By Adam Russell, Texas A&M AgriLife Extension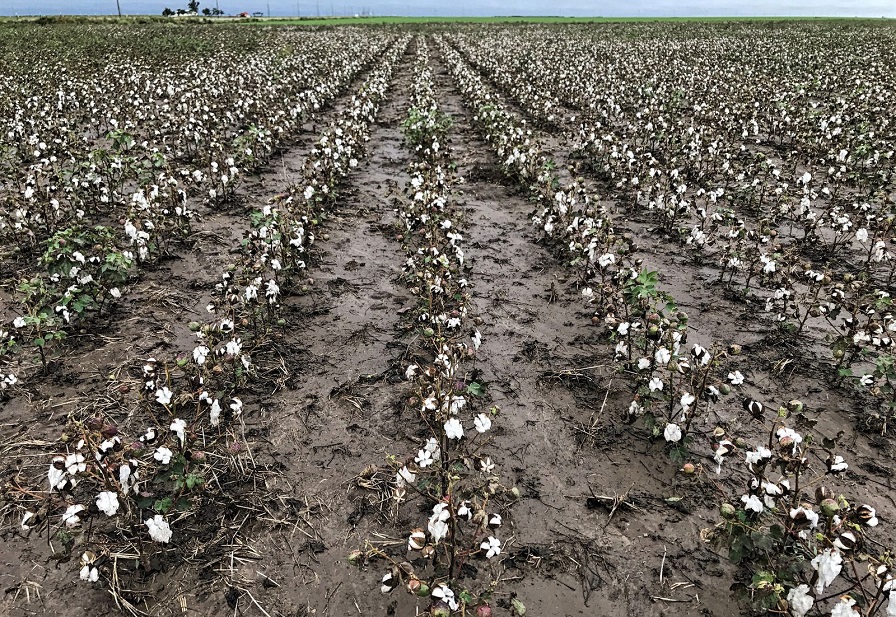 Photo – Texas A&M AgriLife Extension
Poor weather conditions in the Rolling and High Plains could mean subpar cotton yields for many producers in the state's fiber region, said Texas A&M AgriLife Extension Service experts.
Dr. Jourdan Bell, AgriLife Extension agronomist, Amarillo, said wet conditions delayed planting and late-season cool and cloudy spells denied cotton fields adequate heat units for the plants to reach their full potential.
"Across the Panhandle, cotton is in boll development," she said. "However, the maturity level of the bolls varies drastically between varieties and even between fields as a result of planting dates. While many producers like to plant the medium and medium-long maturity varieties due to the potentially greater yield potential, we will likely not see the upper bolls mature in many of these fields this year."
Bell said the combination of high temperatures and sunny days have been few and far between since August.
"Since August, heat unit accumulation has been low," she said. "Our daily highs were in the upper 80s in August. We did have a brief 7-10 day period in September with highs in the mid-90s, but most days have been overcast. We generally assume it will take 50-60 days from flowering to mature a boll, but this year we are seeing it take 70 days or more due to low heat unit accumulation."
There is also concern cotton in the High Plains could experience freezing temperatures sooner than later, Bell said.
"The duration of the freeze will be the greatest concern, but with daily temperatures in the 50s, cotton maturity is quickly slowing down," she said. "Looking at the extended forecast, daily lows are projected to be in the 40s and 50s, and we only have a few days with highs in the low 80s before daily temperatures drop back into the 60s and 70s, so I do not foresee any significant accumulation in heat units in the next week to 10 days."
Weather in the previous two years was ideal for cotton, Bell said, and resulted in very high yields with good quality. In 2016, warm temperatures persisted into September and early October, which allowed cotton to collect late-season heat units and finish nicely.
"This year has been a roller coaster year," she said.
Early dry conditions were causing problems in the Rolling Plains as well, said Dr. Emi Kimura, AgriLife Extension agronomist, Vernon. Producers faced dry conditions during planting time and many did not get their fields planted within the good planting dates.
"Many producers planted late, and now they need more (of a) growing season, more time for the bolls to mature," she said. "It's going to be hard to mature late cotton at this point."
Kimura said late-planted fields did make some bolls and some have opened, but the potential of those fields has diminished due to the recent weather. The region received 6 inches of rain during one event in September, which was unusual, she said.
The wet weather has also created conditions for other problems such as diseases, Kimura said, but the disease issues would be less influential on yields than the lack of heat units at this point.
"There was continuous rain and overcast weather the first week in October and there were some bolls opening, so fiber quality may decrease if the lint remains wet," she said. "They're really desperate for heat units right now. Rain over the next three weeks would be a problem, and if a freeze comes early that would be really bad."