From Cotton Grower Magazine – August/September 2015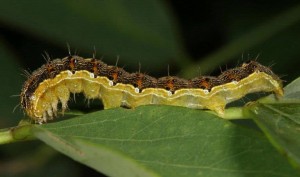 USDA's Animal and Plant Health Inspection Service (APHIS) has confirmed that the Old World bollworm (OWB), an aggressive global pest, has been found in western coastal Florida.
According to APHIS, the pest – known officially as Helicoverpa armigera – is found in many countries around the world and, most recently, in Puerto Rico, Brazil and Argentina. It is considered a severe economic pest in most places where it occurs and can impact at least 180 species of plants, including cotton, vegetables, soybeans, tobacco, corn and other grain crops.
Nearly a third of global pesticide treatments in areas of infestation are aimed at controlling OWB, which has shown a history of developing resistance to insecticides and, potentially, some Bt proteins. APHIS has dedicated more than $1.2 million for OWB detection and control efforts in the U.S. in 2015.
OWB is related to the corn earworm/cotton bollworm (Helicoverpa zea), and the two are nearly identical in appearance. DNA analysis is needed to distinguish the larvae of each species.
APHIS and Florida Department of Agriculture and Consumer Services are currently surveying a nine square-mile area around the detection sites to determine if this is an isolated incident. The organization, along with 27 state partners, have surveyed for OWB for more than 10 years before the recent confirmation.
At this time, growers who see suspicious pests or unexpected damage in their crops should contact their local Extension office or State Plant Regulatory officials.