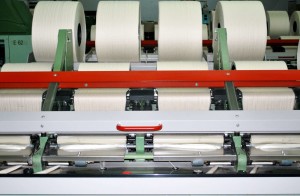 Given all of the uncertainty mills have to deal with on a daily basis – such as the price of their raw materials on one end of the chain and changing consumer preferences on the other – any aspects of their businesses that can be considered reliable and predictable are very welcome.
Textile equipment manufacturers, very attuned to the needs of their customer base, are now focused on providing much more detailed information about their products. They continue to make strides in minimizing energy and water consumption, but they are also helping mill owners determine the lifetime costs of their products – often a much more important factor that the initial purchase price.
Few experts are in better position to comment on those trends than executives from two prominent national textile equipment manufacturer associations: Nicolai Strauch, press officer with VDMA Textile Machinery Association in Germany; and Sandro Salmoiraghi, president of ACIMIT in Italy.
1 When it comes to product development, what areas are textile machinery manufacturers focusing on to remain competitive in the current marketplace?
Strauch: The focus varies between the different sub-branches, but in general the hot topic is efficiency. Volatile commodity and energy prices force textile producers around the globe to optimize their cost structures and processes, so the textile machinery manufacturers have to provide solutions that fulfil these needs. During the development of new machinery, their efficiency in terms of energy and raw material is an integral part of the product development process.
Salmoiraghi: To remain competitive, textile firms must increasingly focus on innovation and cost savings. Then they require textile machinery manufacturers to produce equipment and applied technology that offers cost savings throughout the production processes. Textile machinery manufacturers are working to provide technology-based solutions that reduce the consumption of energy, water and chemical substances. At the most recent ITMA Asia event in Shanghai, visitors were able to evaluate the new solutions proposed by many exhibitors and match them to their specific needs.
2 How has the sustainability movement affected textile machinery manufacturers?
Strauch: Ecological design is a major emphasis throughout the textile industry – brands, retailers, consumers and even legislators. To increase energy and material efficiency while simultaneously decreasing emissions requires upgrades in technology, and that's the area where textile machinery manufacturers can play a major role. They are addressing sustainability in different ways, but for textile mills, it is not easy to determine what the best solution is, because the whole discussion about efficiency criteria and comparability is sometimes far from objective. Textile machines – even of the same product type – are usually designed for the demand profiles of a specific textile manufacturer. These profiles vary according to the textile product to be manufactured and/or the specific process to be performed.
In other words, the textile producer directly affects the specific energy use in many ways. Machine-based logos and other ways to separate textile machines into different energy efficiency classes – similar to goods made for consumers – are no solution, from a professional perspective. That's why the VDMA sustainability initiative, Blue Competence, defines management criteria and process standards. They apply to all alliance members that take part in the initiative.
Salmoiraghi: It has affected our industry in a positive and massive way. The textile industry is looking for energy-efficient production models and processes, that simultaneously reduce the environmental impact. Energy efficiency and sustainable production processes are moving forward together. Within this context, ACIMIT has launched the "Sustainable Technologies" project (http://www.acimit.it/pub/E-sustainable.htm) to develop and promote key issues for the textile industry. This initiative shows the commitment that Italian textile machinery manufacturers have made to developing advanced solutions that meet sustainable criteria. ACIMIT member companies that adhere to this initiative can utilize a descriptive label (known as the ACIMIT Green Label) that highlights key performance data for their machinery, similar to an "energy labeling" approach.
Although the Green Label program was launched as a self-certification process, it is now being assessed by a third-party certification body, RINA, which carries out a random inspection audit on 20% of the participating companies each year.
3 What features are spinning mills and/or textile equipment companies looking for when they consider purchasing new machinery?
Strauch: Based on feedback from our member companies, textile mills are increasingly looking at the total life cycle cost of machines. During the entire lifetime of a machine, up-front costs represent only about 10% to 50 % of the overall costs. This phenomenon is comparable to an iceberg – only its top is visible from above the water surface, while the real iceberg (maintenance costs) lies underneath. Therefore, mills are increasingly looking at the accumulating costs over the life cycle in a textile mill – and there are many factors to examine. First of all, there are the costs for acquisition, installation and start-up. While these costs could be determined quite easily at the beginning of a negotiation, there are many costs that are not transparent at first glance: maintenance, service and repair, to be sure, but also for energy consumption, operating costs, waste production, environmental costs (for certificates and special filters), and so on. To put it in a nutshell: The initial price for a given machine might seem high, but it can pay off after a few years due to low maintenance costs and reliability in production.
Salmoiraghi: To evaluate the purchase of new machinery in the textile sector, many factors have to be considered, such as:
• the segment in which the company operates (spinning, weaving, knitting or finishing),
• the type of fiber it will be processing, and
• the final destination markets of its items.
Generally speaking, in such tough competitive markets, price competition plays a fundamental role. This is especially true in Asian markets, where mass production is the primary focus for the majority of the textile and clothing companies. The versatility and flexibility of machinery is highly valued, as well. Today's market dynamics are increasingly controlled by large-scale distribution chains that decide what and where to produce, at what prices, and which consumers to sell to. As a result, rapid delivery and the ability to keep stocks at a minimum have become the market's most basic and competitive factors. The ability to readily and quickly customize products is indeed a factor which – at least in terms of product quality – represents a major opportunity for the future of textile and apparel manufacturing. In this situation, demand is focused on machines that are able to guarantee flexible production.