What's real in precision agriculture? What's not? Which technologies are likely to leave a sustaining impact, which are just a flash in the pan – and most importantly, how do we react? These were key questions we set out to answer when we launched the PrecisionAg® VISION Conference near the tail end of this decade's ag-tech boom.
More than three years later, the VISION Conference, set for Jan. 14-16, 2020, in Seattle, WA, is the place to be in North America if you want to get a clear strategic view of technology's unrelenting advancement and how all the disparate pieces are starting to come together into a "System of Systems" – the theme of this year's event.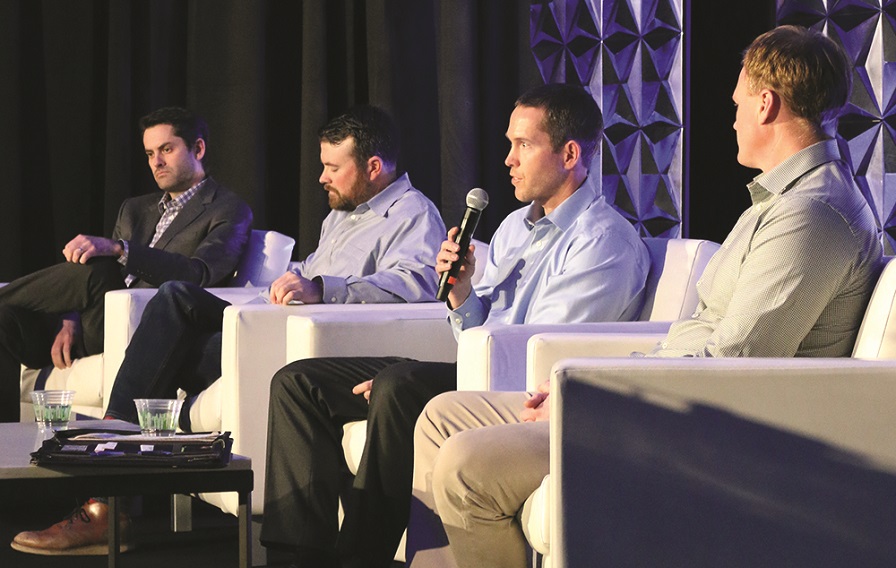 Dan Plath of Washington Fruit & Produce Co. (with microphone) speaks during a grower "fireside chat" at the 2019 PrecisionAg® VISION Conference in Seattle, WA. Also pictured (from left): Patrick Smith of B. T. Loftus Ranches Inc., Agriculture Executive Consultant Danny Royer, and Sean Gilbert of Gilbert Orchards.
Never in our decades of covering precision agriculture at Meister Media Worldwide have we seen system interoperability and compatibility, effective data management and application, and ROI for the growing operation move so tantalizingly close to real fruition. Yet whether it's in row crops, specialty crops or in the greenhouse, we have yet to fully harness all this technology into a more seamless, easily understandable whole to improve crop quality and yield.
How do we do it? Our agenda for 2020 aims to hit the hotspots for the two or three critical years that are dead ahead – amply preparing you for the future. Plus, as an attendee you can expect to rub elbows with a veritable who's-who in ag technology in North America.
Here are some of the agenda highlights:
"Change is a Choice." Best-selling business author and speaker Dr. Kevin Freiberg, acclaimed keynote at the 2019 VISION Conference, returns with a concrete five-step plan to help turn the promise of precision agriculture into a reality.
Clean and Easy: Data's Next Step. We've gathered an expert panel to discuss why and how data – the so-called "new oil" – can be more readily refined.
Imagery: Is Ag's Future in the Sky? Four expert presenters – one grower, three technology providers – will help you see how central imagery can be to crop production.
Robotics and Automation in the Real World. You'll hear from university experts both east and west: Carnegie Mellon and Washington State.
Precision Application and Crop Inputs. Get insights from leaders hailing from both the technology and crop protection sectors.
Crop Input Development: Precision's Current and Future Impact. Precision is making impacts not only on in the growing operation and in the downstream food system, but also in upstream R&D and crop input delivery models. Hear from the experts about what's around the corner.
Ag Technology's Inefficient Business Model. Right now, it's invent and fund a technological solution, then figure out whether agriculture might be able to put it to practical use. A pair of industry leaders will discuss a potentially better way.
Technology's Pull-Through Effect from Downstream. The voice of the customer – not only the farmer but also the end consumer – will have a say in the technology you're using today and tomorrow. You'll hear from a range of points of view.
Put it all together, and we expect this year's VISION Conference to be our best yet. You'll leave Seattle informed, connected, and energized to tackle the year ahead. We hope you'll make plans to join us. For agenda and registration information go to TheVisionConference.com.