AcreValue, a leading online land intelligence solution for U.S. farmers, landowners, and land professionals, has added two new digital tools – Custom Boundaries and Claim My Land – to help farmers, landowners, and their business collaborators research land and to network.
AcreValue is a digital solution from Granular, which provides software to help make farming more efficient and profitable, while preserving and enhancing the value of farmland. Granular is part of Corteva Agriscience's digital business platform.
Custom Boundaries allows AcreValue users to explore and map land across the U.S. by either clicking on an existing real estate tax parcel or by drawing their own property boundary, which may include multiple parcels, part of a parcel, or only tillable acreage.
"The new Custom Boundaries tool gives our users additional flexibility and a more customizable mapping experience, explains Madeline Paymer, senior product manager for Granular. "For example, landowners can use it to explore the best way to divide their land among family members or for potential sale. Or, given this year's extreme weather, farmers can use the tool to easily outline and calculate Prevent Plant acreages for crop insurance claims."
Claim My Land offers a first-in-kind digital networking tool for landowners to more quickly and efficiently manage their land investment over time.
"Landowners now have a tool for claiming land as their own and connecting online with others, says Adam Litle, senior vice president of Revenue for Granular. "Landowners need to interact with each other to keep up on local land values and rents and want an easy way to receive inquiries from farmers interested in renting their land. Or they may be open to selling land or purchasing additional parcels.
"Claim My Land provides an environment in which to explore all of this and more."
AcreValue has over 400,000 registered users – equivalent to 20% of the total number of farming operations in the U.S.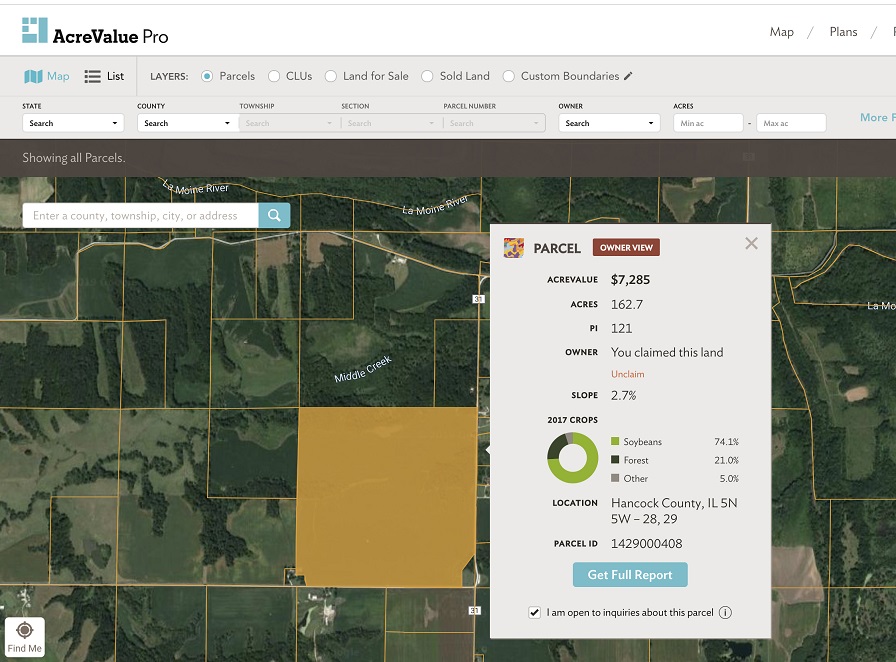 Based on information provided by Granular