BASF's Stoneville Legacy Club honored growers from the Southeast, Delta and South Texas for their hard-earned harvests during the 2018 season at a recent celebration meeting in Destin, FL.
Now in its third year, the Stoneville Legacy Club recognizes cotton growers for their knowledge and skill used to maximize their yield and profit potential and high quality fiber production with Stoneville varieties. To qualify for the Stoneville Legacy Club, growers must have planted 100% Stoneville cottonseed on at least 20 qualifying acres during the 2018 calendar year.
Twenty growers earned membership to the group during 2018 and were recognized for harvesting yields in the top 10% of their state.
"Stoneville has been around for nearly 100 years, and it's a brand that growers trust to consistently perform at high levels," said Rachel Walters, BASF cottonseed marketing manager. "Stoneville Legacy Club growers pair our elite germplasm with their quality management to deliver high yields year-in and year-out. We're honored to provide them with this recognition."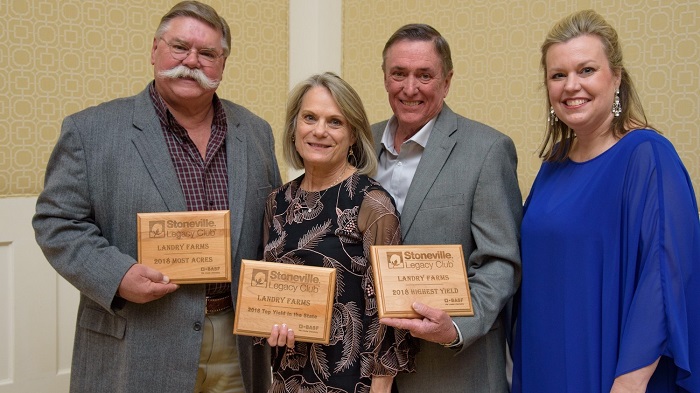 Mark and Becky Landry (center) received the award for highest yield using Stoneville cottonseed in the South Texas/Delta region during the annual Stoneville Legacy Club celebration. Pictured with the Landrys are Butch Roecker and Rachel Walters, both with BASF.
Several Legacy Club growers received special awards in their regions:
South Texas/Delta
Highest Yield – Mark and Becky Landry, Landry Farms (2,276 lbs/acre)
Most Acres – Mark and Becky Landry, Landry Farms (254 acres)
Most Varieties – Lea and Jody Calloway, Calloway Farm Partnership (ST 5471GLTP, ST 5517GLTP, ST 5122GLT)
Southeast
Highest Yield – Mart Waller, H.B. Waller III (1,360 lb/acre)
Most Acres – Matt Ransom, Ransom Farms (920 acres)
Most Varieties – Matt Ransom, Ransom Farms (ST 4848GLT, ST 5020GLT, ST 6182GLT, ST 4946GLB2)
"We've been growing Stoneville for 30 years," said Mark Landry of Knippa, TX – winner of the highest yield award for the South Texas/Delta region. "We started out with three bale cotton yields in the 1980s, and as genetics and varieties have improved, we're now achieving more than 4 ½ bale yields. This is a result of the new varieties that Stoneville has brought to the table for cotton farmers."
To view a complete list of winners and learn more about how qualify for the 2019 Stoneville Legacy Club, visit Stoneville.com/LC.
Based on information from BASF