From Cotton Grower Magazine – January 2016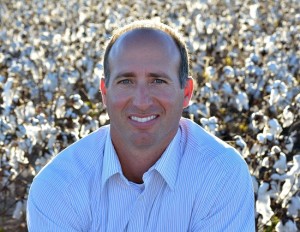 Cory Mills will bend your ear all day about irrigation and drought tolerant cotton varieties. They're both part of a long-standing interest that led him from an Idaho dairy farm to the High Plains of Texas.
Mills, who is the program lead for cotton breeding for Bayer in west Texas, recognizes the delicate balance between dry conditions and water that dryland cotton growers in the area navigate each year. His job, as he sees it, is to make sure that drought tolerance becomes a key element in new FiberMax and Stoneville cotton varieties.
And it all started from moving irrigation pipe back home in Idaho.
"I grew up on a dairy farm, and learned pretty quickly that dairymen don't take very many vacations," said Mills. "There were eight children in my family, and we all learned early about the value of hard work. That's really where I really found my love for agriculture. I enjoyed it."
He also gained an appreciation for the value of irrigation. It's dry in Western Idaho, and he spent plenty of time moving and resetting pipe. "It was a good way to earn money to buy school clothes each year," he added.
But it also sparked a deeper curiosity that guided his academic career.
Mills earned a bachelor's degree from Brigham Young University, where he worked in the soils lab and in soil testing. During his senior year at BYU, he attended an American Society of Agronomy meeting and interviewed for assistantships and the opportunity to earn a master's degree. He ended up at the University of Georgia, working with Dr. Craig Bednarz.
"That's when my love for cotton began," recalled Mills. "I learned a lot about cotton and how to grow it in the southeast Coastal Plains, where we could get drought stress in about a week with the sandy soils. We implemented various irrigation treatments, and my knowledge of drought testing began."
After earning his master's degree, Mills headed west to Texas Tech University for his Ph.D., continuing his work with Bednarz, who had accepted a new position with Texas Tech.
Following graduation, he moved to Kansas to work in the corn and soybean development programs for Pioneer. In February of 2015, Mills got the call to move back to Lubbock to join the Bayer breeding team.
"One of the things my family and I really like that drew us back to this area was the people," said Mills. "Plus, the opportunity to be back in cotton."
Mills points out that Bayer has a strong commitment to dryland breeding, with 55% of the west Texas acres considered dryland. The company's breeding program for that geography has two primary focuses – one for the more northern parts of the region that enjoys more water and traditionally higher yields, and the other on drought tolerant varieties for those dryland acres. That allows Mills to utilize his background in crop physiology to complement his breeding work on drought tolerance.
"It's important to understand the environment in this area in terms of dry conditions and water," said Mills. "That's how our program is set up right now."
Between the Bayer FiberMax and Stoneville brands, the breeding program has 18 to 20 commercial varieties that Mills and his co-workers challenge with the new material that's moving through the pipeline. In many cases, the commercial varieties are used as checks for the testing process. New selections are tested under both full and limited irrigation conditions to help determine the best new variety candidates.
"The focus of our drought tolerance is really to provide farmers with varieties that perform well. We're shooting for what I call crop efficiency, not just water use efficiency."
Mills also looks forward to the fall of 2016, when a new state-of-the-art breeding station will be completed along Lubbock's East Loop.
"We hope to increase capacity with both the ability to test and with the number of new lines that we do screen," he said. "The facility will combine breeding with trait development under one roof. It'll be a good opportunity and should allow us to increase efficiency."
Like most people who find their way into cotton from outside the industry, Mills has found his calling.
"I like breeding cotton, because I love drought tolerance and cotton is inherently drought tolerant," he stated. "It's also a vital crop here in west Texas. The infrastructure is here to grow it.
"I think the plant is very interesting in itself," he continued. "It's complex, but it's beautiful as well. I think harvest time is the most beautiful time of the year here, because the fields are completely white. We have to have food, feed and clothing, and cotton is a big player in all of that. It has an intriguing history, and the number of things centered around cotton that have happened is fascinating."
His family back home in Idaho is also equally fascinated.
"Every time I go back, everyone asks me what I'm doing and what's going on, and I'm always excited about what I can share with them," quipped Mills. "And I always check to make sure they're wearing cotton, too."