From Cotton Grower Magazine – August/September 2015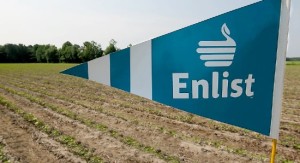 The cotton industry received welcome news in late July when USDA announced it was deregulating Dow AgroSciences' Enlist cotton trait system in the United States. For the company's representatives, the news was met with cheers – and a sigh of relief.
Like all new agriculture trait introductions, Enlist technology was subject to regulatory review by the government. For PhytoGen Cotton Development Specialist Chris Main, a relative newcomer at the company, that process has been ongoing since he was hired in 2012.
"It was a relief, for sure," says Main. "We've been working, as a company, with this technology for several years in a regulated type of environment where everything is tightly controlled and you have to monitor how you work with everything. So to get to this point where you can see a commercialization light at the end of the tunnel, it's really exciting.
"For so long, you work and work towards this goal," Main says. "Then you get that news, and now the fun part begins, in terms of being able to work with our growers and create that new level of excitement."
Cotton growers who have had access to the Enlist system, via the company's Grower Research Plots, have high praise for the technology, which features tolerance to glyphosate, Liberty and the company's 2,4-D-based herbicide product Enlist Duo.
Belzoni, MS, cotton producer Trey Koger has an academic background that includes a doctorate in Weed Science from Mississippi State University. He was able to gain firsthand experience with Enlist technology in 2015 through a seven-acre test plot. In addition to praising the technology's efficacy in killing weeds, Koger was impressed with its ability to stay on target.
"We had corn all around our cotton plot, a slough that was 40 yards from our Enlist Duo field, and a commercial tomato grower about a mile away," Koger said. "We had a number of sensitive crops all around us. We had excellent crop safety and no off-target movement. We were extremely pleased with the lack of drift and volatilization in off-target movement."
With this recent ruling, USDA has now completed its review of all Enlist traits, including corn, soybeans and cotton. Dow representatives hail the deregulatory ruling as a milestone for U.S. cotton, although they do point out that the Enlist system for cotton is not entirely out of the woods just yet.
"The path is clear in the United States – we have the authority to commercialize and sell this technology here," says Jonathan Siebert, Enlist sales leader for Dow AgroSciences. "But today we're in a marketplace with global trade, so we have to be aware of foreign markets and make sure we have all those foreign approvals in place. There still are some regulatory processes to overcome in some key import markets that could impact what we do from a commercial standpoint in 2016."
But, Siebert adds, the news for Enlist is overwhelmingly promising.
"In cotton, we do plan to launch the Enlist trait in PhytoGen germplasm in 2016."