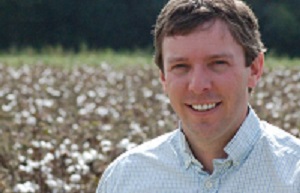 I've always thought New Year's was an underrated holiday. At the very least, it's a time for reflection on what we've accomplished, and establishing some hope for the new year to come. It's a great time to count your blessings. And, famously, it's a time to resolve to be better in the days to come.
So what would a New Year's Resolutions list look like for the American cotton industry? I think I have some ideas for the cotton community.
The world's consumers, for instance, should resolve to once again value cotton over man-made fibers. According to market analyst Ed Jernigan, this process has already begun. As market forces in China push toward a more environmentally-sound industry, mills there are rediscovering their love for cotton over polyester. If history is any indication, western consumers will soon follow suit.
On a related note, the cotton industry and all of its advocates should resolve to follow Jernigan's message and "take the battle back" to polyester. The fight for market share begins with telling our own story, and stressing our environmental advantages over man-made fibers. This resolution could be a major victory for cotton in the Soil vs. Oil battle.
Cotton Incorporated, incidentally, should resolve to pay the brilliant cotton editor who coined the marketing phrase Soil vs. Oil.
Growers in the upper Southeast and the gulf coast region of Texas should resolve to have a hurricane-free 2018. After a year that featured difficult late-season storms, they deserve to capitalize on at least one year of decent market prices and ideal weather.
In the Mid-South, growers ought to resolve to document every single detail about their herbicide applications in 2018. Heck, have a notary present. Wear a body camera. That way we can eliminate any of the mystery surrounding off-target herbicide movement. We might even find that there's much less of it in 2018.
Members of Congress from Cotton Belt states should resolve to adapt the NCC-supported cottonseed policy in 2018. We've been kicking the can on this issue for years now. Surely a handful of them have prepared a meal using cottonseed oil by now. The clock is ticking.
On a related note, Cotton Grower's readership ought to resolve to remind their elected officials that they care about this issue. Phone calls and emails matter, after all.
And I'd be remiss if I didn't include at least one resolution for Cotton Grower – a real-world, achievable one, at that. We're going to resolve to put our feet in as many of your fields as we can in the coming year. The point, as always, is to tell as many of your stories as we can possibly search out over the course of a year. As long as you guys and gals resolve to continue being the backbone of rural America, we'll continue to spread your message. We still think it's one that's well worth telling.
From Cotton Grower Magazine – January 2018