Pop singer Sheryl Crow, members of The Cotton Board staff, and hundreds of other volunteers helped build 10 houses in 10 days during a New Orleans Area Habitat For Humanity Build-A-Thon.
The Build-A-Thon commemorated 10 years since Hurricanes Katrina and Rita devastated the region.
Cotton Incorporated's Blue Jeans Go Green program collected 10,000 pairs of used blue jeans for this initiative and provided UltraTouch Denim insulation for each home being built.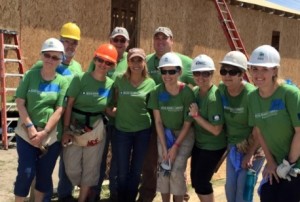 Crow – who was born and raised in the Cotton Belt state of Missouri – has been supporting the Blue Jeans Go Green initiative in New Orleans and led the charge asking consumers to donate their denim to the program. On May 21, she was on location at 4292 America Street in New Orleans to help install the recycled denim insulation.
"The Blue Jeans Go Green program is a really simple way to help the environment, help communities in need and complete an environmental cycle that begins on the farm and ends with us," said Crow. "To think that my old jeans could help insulate a house is just an incredible idea."
Nine members of The Cotton Board staff traveled from Tennessee, Arkansas, Texas and Northern Louisiana to help build the Blue Jeans Go Green house. The Cotton Board staffers spent the day working alongside AmeriCorps and Habitat for Humanity volunteers installing insulation, framing and roofing the home.
Lisa Droke, senior vice president and CFO for The Cotton Board, was among the volunteers.
"The Cotton Board staff was honored to be part of this effort," said Droke. "Helping build a home for a person that has worked hard to rebuild their life after losing so much in the hurricane was a moving and rewarding experience. We are so proud of the contribution cotton makes to Habitat For Humanity through the Blue Jeans Go Green program."
More than 600 volunteers participated during the ten-day New Orleans Build-A-Thon to ensure that the homes were completed. The completed homes will be dedicated to the deserving recipients on May 30.
Andrea Samber, co-director of Strategic Alliances for Cotton Incorporated, said that the program has a long history in the New Orleans area.
"Participating in a Habitat for Humanity build there in 2007 was one of the first activities of Blue Jeans Go Green," she recalled. "Since then, we have given just over half a million square feet of insulation to the Gulf South alone. We're happy to still be involved and to be collaborating with New Orleans Area Habitat for Humanity on this ambitious project."
Jim Pate, executive director of New Orleans Area Habitat for Humanity said, "By providing insulation for our build, Cotton's Blue Jeans Go Green Program is making a significant contribution to affordable housing and sustainable living that will positively affect families in New Orleans for generations to come. We are also very grateful to Sheryl Crow for her leadership and participation."
For more information on Blue Jeans Go Green, please visit www.bluejeansgogreen.org.
Source – The Cotton Board