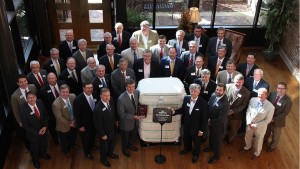 Members of Staplcotn's board of directors and officers commemorate the association's 100 millionth bale of cotton, produced by Mark Hanna of Donalsonville, GA. 
At their quarterly board meeting in March, the board of directors and officers of Staple Cotton Cooperative Association (Staplcotn) officially recognized the receipt of the 100 millionth bale of cotton to be marketed by the association.
The bale – received on December 18, 2015 – was produced in Donalsonville, GA, by Mark Hanna of Hanna Farming Partnership and ginned by Miller County Gin Company.
Meredith Allen, president and CEO of Staplcotn, commented, "Since this 100 millionth bale is such a milestone and a testimony to the strength of the company, we have opted to keep this bale and put it on display."
During its first year of business in 1921, Staplcotn members produced 156,264 bales. Five years later, the total number of bales received reached 1 million. In 1956, that total hit the 10 million mark.
"When you look at the fact that we didn't start receiving 1 million bales or more per year until the 1980s, getting to the 100 million mark this quickly is pretty amazing," Allen remarked.
Hanna, who has been a Staplcotn member since 1995, received a plaque honoring the milestone from board Chairman Mike Sturdivant.
"It's quite a thrill to have a part in Staplcotn's history," said Hanna. "I joined Staplcotn as soon as they came to Georgia. I wouldn't want to be in the cotton business without them.  I just don't have to worry at all about getting my cotton marketed."
Shane Stephens, vice president of cotton services and warehousing, remarked, "As happy as we are that we have reached this benchmark in Staplcotn's timeline, I'd say that we are just as pleased that we received all of the bales before it, as well as the ones after it. Every single bale is important, and we always strive to do the very best job we can do for our membership.
"I think that's what this particular bale represents, as well."
Staplcotn – a 100% producer-owned company – is the oldest and one of the largest cotton marketing cooperatives in the United States. It provides a range of services to members, including domestic and export marketing, cotton warehousing, and agricultural financing through Stapldiscount, the lending arm of the association.
Staplcotn presently handles more than 14,000 farm accounts in 11 states – Mississippi, Louisiana, Arkansas, Missouri, Tennessee, Alabama, Florida, Georgia, North Carolina, South Carolina and Virginia. Association membership – consisting of growers, share rent landlords, and marketing, warehouse and Stapldiscount patrons – totals 8,311 members located in 46 states.
Source – Staplcotn