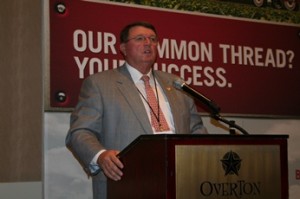 Eddie Smith, a Floydada, TX, cotton producer, has been selected as the 44th recipient of the Cotton Grower Achievement Award.
The Cotton Grower Achievement Award – organized and managed by Cotton Grower magazine and sponsored by Case IH and Deltapine – recognizes and honors growers who are outstanding innovators, sound stewards of the environment, and leaders in their communities as well as the cotton industry.
Smith was recognized by his peers and the cotton industry December 2 at an event held in his honor at the Overton Hotel and Convention Center in Lubbock.
"The cotton industry has a rich tradition of strong leaders who help guide the continued growth and promotion of the industry and who work tirelessly to protect and improve cotton's interests domestically and around the world," said Beck Barnes, senior editor of Cotton Grower Magazine. "Eddie has given his time and counsel to individuals and organizations at all levels of the industry for many years. We're excited to welcome him to the prestigious list of recipients of this annual award."
Following graduation from Texas Tech University in 1973 with a bachelor's degree in agricultural economics, Smith began farming full-time. Today, he and his family maintain a cotton, cattle and grain operation near Floydada. Since first serving on the County Committee of Floyd County ASC in 1984, Smith has dedicated himself to bettering his community, his country and his industry and is a respected leader in the cotton industry on the state and national levels.
He served as National Cotton Council (NCC) chairman in 2010 and vice chairman for 2009, and has been a member of numerous NCC committees, including its Environmental Task Force. He was elected to the board of directors of Plains Cotton Cooperative Association (PCCA) in 1984 and has served as PCCA Chairman since 2004. He is also a director of Floydada Cooperative Gin.
In addition, Smith is a past chairman and long-time director of Cotton Incorporated, and has served as that organization's treasurer, secretary and vice chairman. He also was a member of the Blue Ribbon Farm Bill Committee of the National Council of Farmer Cooperatives and served as vice chairman of its Trade Working Group. He was also a director of the Texas Agricultural Cooperative Council.
To learn more about Smith's story and the Cotton Grower Achievement Award, see the January 2014 issue of Cotton Grower Magazine or visit www.cotton247.com.