Recent drone attacks on the world's largest oil processing facility and an oil field in Saudi Arabia necessitates the important need for safety requirements for the oil and gas industry. And, in the case of oil absorbents, there is a heightened need for non-plastic products that are biodegradable.
Currently, most oil absorbents in the market are synthetic-based and can lead to a micro plastic problem, making plastic contamination in the environment a more serious issue that needs attention and a timely solution.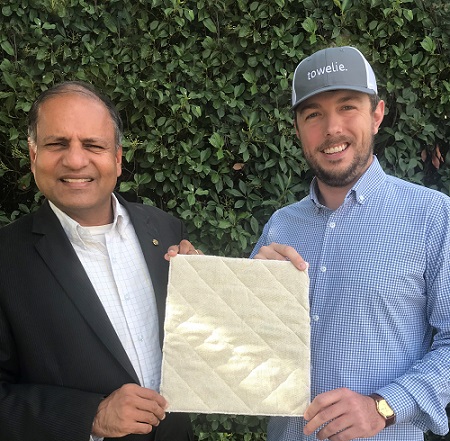 Dr. Seshadri Ramkumar (left) and Ronald Kendall, Jr., president of E Innovate, LLC., with all-cotton Towelie.    
Lubbock, TX-based E Innovate, LLC has collaborated with a company from Chennai, India to release a biodegradable all-cotton product – Towelie – for use in the global oil and natural gas industry. The all-cotton oil absorbent will be sustainable, cost effective and will not lead to micro plastic issue.
Ronald Kendall, Jr., president of E Innovate, said the product is currently used by oil and gas companies in the Permian Basin in Texas.
"Our all-cotton absorbent tackles that problem and will be a viable solution for toxic oil spill contamination in an environmentally friendly way," stated Kendall. "We want to expand our product offerings to solve oil spill issues from garages to offshore facilities."
Kendall undertook research under my supervision in the Nonwovens and Advanced Materials Laboratory as an undergraduate at Texas Tech University, which led to the commercialization of the product. In speaking about the collaboration with the Indian company, Kendall stated, "It helps to capture the strengths of United States and Indian companies to offer a cost-effective solution."
How important are these industrial products for the cotton sector? Jeffrey Kitten, a partner in Kitten Land Company that farms about 11,000 acres of cotton in Slaton, TX, lauded the release of the cotton industrial product.
Kitten, a fourth-generation cotton farmer, stated, "To continue to grow cotton in this highly competitive environment, we need to find all new and value-added applications for cotton. Thinking beyond conventional products such as towels and blankets is needed."