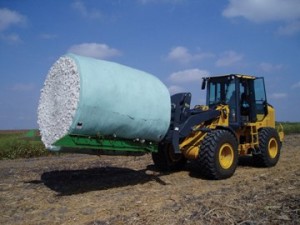 The patent-pending JRB Cotton Grapple and Fork attachments by Paladin Construction Group fasten in seconds to provide excellent wheel loader flexibility for general farm and ginning needs, such as transportation, placement and wrap cutting.
It was developed using innovative coupler technology. All three are designed to handle cotton modules produced by John Deere's 7760 Cotton Picker and to work with JRB 416, 416/ISO or Pin On couplers for wheel loaders.
JRB's cotton grapple attachment with integrated cutter is designed to work in roll feeder, chain feeder, moving-floor feeder and moving-head feeder ginning applications. Power rollers on the grapple arms and base secure the module for transportation and rotate it for wrap cutting. The grapple also contains an operator controlled wrap cutter and automatic wrap engagement spikes. The grapple places the module onto the feed floor in a perpendicular orientation and eliminates the need for sidewalks or extensions.
The spreadable fork attachment with powered rollers and integrated wrap engagement spikes is used at the cotton ginning site. The power rollers are 12-inches in diameter and can turn in the same or opposite direction to gently rotate, engage or disengage the cotton modules. The power rollers also assist in positioning the module for proper wrap cutting location. Additionally, the rollers have operator controlled spikes that help remove the cut wrap from the module. The spreadable fork with powered rollers places the module onto the feed floor in the axial orientation for even feed.
A second spreadable fork attachment is available, with or without beveled fork sleeves, for use in the field to stage modules for module truck pick-up or to load modules directly onto flatbed trailers for delivery to the gin. Its design allows for maximum operator visibility. The front end loader maneuverability is ideal for fast loading, even in wet and unlevel field conditions.
Paladin Construction Group is a leading manufacturer of attachments throughout North America for the construction, aggregate, agriculture, landscaping, land clearing, recycle, mining, demolition, utility, aviation and municipal market segments. For more information about Paladin's entire attachment offering, call 800-428-2538; fax 330-734-3018; e-mail: tmulhollen@paladinbrands.com; or visit www.paladinbrands.com.