From Cotton Grower 2017-18 Product Showcase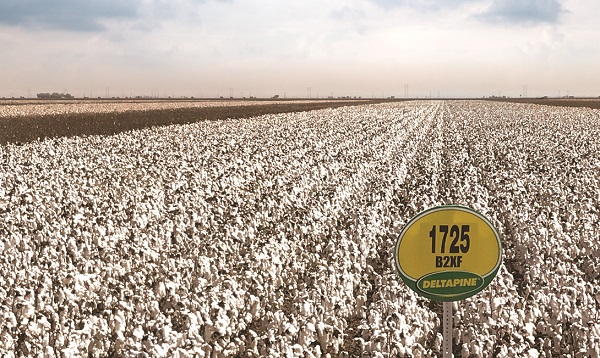 As the 2017 cotton harvest gathers momentum, DP 1725 B2XF is proving to be the newest early- to mid-season variety from Deltapine to offer strong yield performance and outstanding fiber quality.
A member of the Class of 17 varieties, DP 1725 B2XF was a proven performer in the 2016 Deltapine New Product Evaluator (NPE) Program and is delivering top-end performance on farms in 2017.
"Last year, I grew DP 1725 B2XF in my NPE plot, and the yield and fiber quality were tremendous," said Levi Burns of Harlingen, TX. "I actually won an award for yield with it. This season, it's winning an award in our fields. The fiber quality is very good, lint turnout has been 42 and 43 percent, and the yield has been tremendous, with some fields picking 4.25 bales per acre and others going over 4.5 bales per acre on 38-inch rows."
Nick and Stanley Joe Pinkston, of Sinton, TX, finished picking their cotton on August 10.
"DP 1725 B2XF picked like a dream on our dryland fields," said Nick Pinkston. "As the commercial check, it was the best yielder in our NPE plots, averaging nearly 3 bales per acre."
DP 1725 B2XF has a unique set of cotton germplasm that offers ease of management, very high yield potential and excellent fiber quality. It is an early- to mid-maturity variety that offers the yield and fiber quality potential on par with fuller-season varieties, providing growers the option of spreading maturities across the farm without having to sacrifice yield and fiber quality performance.
A good companion product to DP 1646 B2XF in the Southwest, Mid-South and Southeast growing areas, DP 1725 B2XF has proven to be very stable in performance across environments and soil types, under irrigation or on dryland fields.
Two weeks before defoliation in August, Billy Don Hinkle was checking out his cotton crop and noticed how good DP 1725 B2XF looked in his irrigated fields west of Marianna, AR. Hinkle likes to plant different maturities across the farm in order to minimize risk and spread out harvest. He planted DP 1725 B2XF between April 15-23 and said it showed good vigor at emergence.
"I had no problems establishing a stand with it," said Hinkle. "The variety was easy to manage with PGR. It seemed to respond well. As of late August, it had a good boll load on it and looked like it could be a strong yielder."
In the Coastal Bend of Texas, where harvest is complete, cotton yields set on-farm records for many growers this season, and DP 1725 B2XF led the way.
"We picked dryland fields averaging from a little more than 2 bales per acre to nearly 3 bales per acre," said Pinkston. "That's really good cotton. We've never made this kind of cotton yield down here before. I think the bar has been set much higher with these new Deltapine varieties."
All new Deltapine varieties are tested in the NPE Program and proven to perform before they are released for commercial planting. In its tenth season this year, the Deltapine NPE Program has become the industry's premier cotton variety testing and commercialization program, involving growers representing all growing areas of the Cotton Belt who evaluate pre-commercial variety candidates in large-acre plots under their own management systems and field conditions.
Feedback from the NPE growers helps determine which candidates to commercialize and how to position new Deltapine varieties on farms in different regions with various management programs. It's a big reason why Deltapine is known throughout the Cotton Belt as the brand that delivers strong cotton.
For more on the NPE Program, visit Deltapine.com/NPE.