A new leadership team for the coming year was elected during the International Cotton Association's (ICA) recent annual general meeting in Liverpool.
Selected were:
President – Azeez Abdul Syed, Olam International Limited
First Vice President – Alex Hsu, Formosa Trading Co., Ltd.
Second Vice President – Tim North, ECOM USA Inc.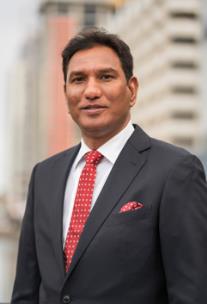 ICA President Azeez Abdul Syed
New members elected to the ICA Board of Directors are:
Eimear McDonagh, Namoi Cotton Alliance
Kim Hanna, TransGlobal Inspections LLC
Peter Wakefield, Wakefield Inspection Services
Jamie Welsh, DJW Cotton Consulting Ltd
Baofu Yang, China National Cotton Exchange.
On accepting the role of President, Syed noted, "We do not need to look far beyond other parts of the textile value chain to understand how chaotic our industry could be without the ICA. Our Association plays a critical role in maintaining order, promoting the values of equitable trading and contract sanctity. It benefits all members and the wider industry. It is crucial not only that we continue to support our Association, but that we champion membership of the ICA."
Comprising 24 members, the new board line-up continues to represent the ICA's global membership across all sectors of the supply chain and builds on its commitment to engage the entire global cotton community.
Based on information provided by the International Cotton Association